---
Search
This Week Titles Only
Each week we will share a few news articles featuring Wisconsin stories on inclusivity.
The stories are archived so you may search a topic anytime. Take a few seconds each week to see what other are doing for inspiration, pitfalls, and best practices. Share your stories with us.
Please note this event has been
Rescheduled...
...more
---
I`m very happy to let you know the Toward One Wisconsin conference is rescheduled to
November 12 and 13, 2020
at the Radisson Hotel & Conference Center in Green Bay.
Throughout the coming months, we will be monitoring the ongoing situation with COVID-19. We are exploring options for some virtual sessions in case attendees are not able to join in person. If another outbreak occurs in the fall, we will be prepared to move to a totally virtual conference. COVID-19 has created incredible challenges for all of us, but it has also magnified disparities in our workplaces, health and education systems, and in our communities. We feel strongly that the conversation towards meaningful change needs to continue.
Nikole Hannah Jones has committed to coming to Wisconsin as well as many of the other conference presenters. Thanks for your continued support and we hope you can join us November 12-13 in Green Bay!
...more
---
We are proud to feature 30+ companies taking a leadership role to join BizTimes as organizations committed to increasing D&I in their cultures. We thank them for their support, especially in the midst of the COVID-19 pandemic. Their investment reflects the level of engagement and intention these organizations are placing in the importance of diversity and inclusion. Their support also provides us the resources to continue our editorial coverage and do our part to help support the MMAC's Region of Choice initiative to increase diversity in the workforce and management of area companies....

...more
---
With one in four of its undergraduate students identifying as Hispanic, Mount Mary University has become the second college in the state to earn a coveted federal designation that will unlock millions in grants and scholarships.
The designation also opens doors to funding for other uses, including educational materials and lab equipment, enhancements to instructional facilities, academic tutoring and support services, faculty development and endowment growth.
Mount Mary, a women`s private liberal arts college in Milwaukee, is the second in the state to reach the 25% enrollment threshold to qualify as a Hispanic-Serving Institution. And the signs of growth continue: About half of the school`s incoming fall class of 2019 identified as Hispanic.
...more
---
MERRILL, Wis.--(BUSINESS WIRE)--Church Mutual Insurance Company, S.I., (a stock insurer)1 was recognized as a national leader in advancing women and diversity at the "Women and Diversity: Expanding Opportunity in Insurance" conference in New York City Feb. 28, 2020. The conference was hosted by the American Property and Casualty Insurance Association (APCIA).
"I think it validates the efforts Church Mutual and its employees are undertaking for continued success"

Kathy Iriarte, president of the Church Mutual Women's Leadership Initiative (WLI) group, along with Dawn Schroder-Silvela, WLI past president, attended the event and accepted the award on behalf of the Church Mutual family of companies.
"I think it validates the efforts Church Mutual and its employees are undertaking for continued success," said Iriarte, WLI president. "As an employee and as a woman, I have a sense of pride in our company, our culture and our employees for having open minds to boldly address diversity. That can be an uncomfortable conversation at times."
Continuing to enhance diversity and inclusion is a top priority for Church Mutual. WLI, specifically, elevates and empowers the women of Church Mutual through professional networking, leadership development and mentorships.
"Church Mutual is making a name for itself in diversity and inclusion," said Rich Poirier, president and CEO. "We are committed to furthering our efforts, which will continue to be a high priority for us moving forward. Not only is it the right thing to do, it's the smart thing to do." ...
...more
---
Note: This article was reported on and photos were taken before social distancing became prevalent. Hillel is the Jewish Student Center On the UW Madison campus.

MADISON — The Hillel building in Madison is draped with inclusiveness.
A large rainbow flag is a dominant image as students approach the building, and there are signs that preach inclusiveness.
It's a response "to terrible things that have happened in the world," said Madison Hillel Executive Director Greg Steinberger. This includes attacks on churches, mosques and anyone who is different, he said.
One sign in the lobby details seven Jewish values for an "inclusive Jewish community." These include respect, peace in the home and love your neighbor as yourself. A bold, colorful sign at the building entrance says all sizes, colors, genders, beliefs, religions and people are welcome...
...more

Ken Notes: Would it not be fantastic if all the religions of the world worked in harmony and welcomed all people...
---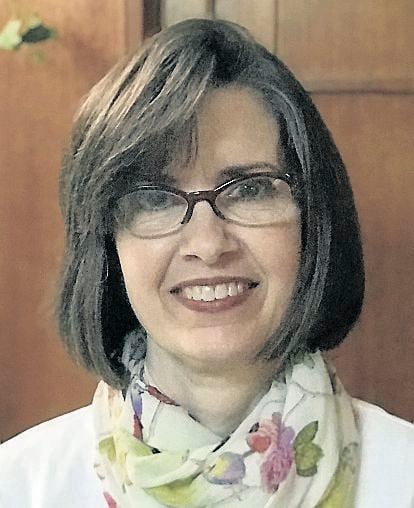 When the Rev. Ronnette Comfort-Butler pulled her eldest son from a program for special needs youths that was not serving his needs several years ago, she made a promise to him.
"As I knelt in front of this little boy who was so happy, I said 'Someday, Mommy will write something or do something so that no other child will ever have to go through this again.' "
That something was a program designed to help people with cognitive disorders better understand what they were being told. Titled "How to develop a practice of radical hospitality for people with cognitive processing disorders," it became the capstone project of her Doctor of Ministry degree at Lancaster Theological Seminary...
...more

Ken Notes: Great read and insight into working with those with cognitive challenges.
---
In the DeForest Area School District, Director of Instruction Rebecca Toetz navigates resources that don`t always represent a fast-expanding population of students of color.
There`s no shortage of concerns a chief academic officer has to juggle during the resource procurement and curriculum planning process. As the director of instruction for the quickly diversifying DeForest Area School District, located outside of Madison, Wisconsin, Rebecca Toetz, like many of her peers, grapples with these issues regularly.

Education Dive recently spoke with Toetz, who spent 17 years in the classroom, has a background in special education and also served as a principal, to learn more about ensuring accessibility in resources, providing opportunities for all students to see themselves in curriculum, and avoiding common pitfalls when implementing a resource...

...more
Ken Notes: Great interview at the link...
---
When children all over the globe are bound to their homes due to the lockdown, a nine-year-old Malayali boy is imparting sign language lessons through videos from his home in the US. For the past four weeks, Thaathwik has been holding 15-minute live streaming sessions from his home in Wisconsin state, sharing with viewers the new words and phrases he learned in sign language. The third-grader has been a super star after his tutorials turned a big hit...
...more
---
Watch for New Dates
About the Inclusivity Conference
The 2020 Toward One Wisconsin Conference will bring together citizens and organizations from multiple sectors across Wisconsin to build communities of equity and opportunity.
AUDIENCE
We expect a diverse attendance including but not limited to representatives from birth-K-12, higher education, academia, business and industry, state and local workforce development, youth programs, health professions, vocational rehabilitation, chambers of commerce, non-profit organizations, government, community and neighborhood associations, and faith-based groups.



Continue the discussion around making our communities more inclusive

Learn what is working

Discover what is promising on the horizon

Present best practices

Provide networking opportunities
Build greater awareness on the intersection between inclusion and economic, social and emotional health of communities, workforce, youth, and under-served populations in Wisconsin.


Produce a comprehensive strategic report with performance measures and actionable recommendations around each Track for state and local governments, businesses, communities, educational institutions, health systems, and non-profit organizations.
...more
---
Track Sponsors


...more

Notes:
Start Week: 28 - Query String:SELECT * FROM T1W WHERE `issue` > 28 and volume = 8 OR `issue` > 90 ORDER BY sortorder