---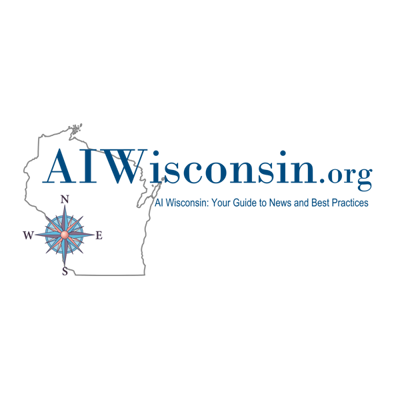 Ten thousand of environmentally minded business professionals, 500+ News outlets and reporters, and even a treehugger or two now read WDNGreen each week. Thank you!
Please
share WDNGreen with a friend
...
WDNGreen Network of Links
... or
Search WDNGreen
...
Ken Harwood
Advocating for Wisconsin
Editor [at] KenHarwood.com
608.334.2174
...more
---
MGE owns a 97 kW solar array on top of Middleton Police Station. Under the arrangement with MG&E, the City of Middleton can purchase the array outright in six year`s time. There is no legal barrier to prevent utility holding companies from investing in customer-sited generation.
...more
MGE owns a 97 kW solar array on top of Middleton Police Station. Under the arrangement with MG&E, the City of Middleton can purchase the array outright in six year`s time. There is no legal barrier to prevent utility holding companies from investing in customer-sited generation.
---
The Dane County Board is pursuing a financing model for clean energy projects.
PACE -- or property assessed clean energy -- is a program that lets certain property owners obtain long-term loans for projects relating to water conservation, energy efficiency and clean energy. Examples can include solar panel installation, high-efficiency heating and more.
Supervisor Patrick Miles of McFarland recently brought a PACE resolution to a meeting of the board. It will need to be reviewed by two committees before going to the board for final approval.
"PACE is an excellent example of the role government plays in making lasting, positive change," said Miles. "PACE, at the same time, promotes economic development and creates jobs while improving the air we breathe and conserving valuable water resources in the county."....
...more
---
Welcome to Green Drinks of La Crosse.
Who: Everyone interested in the environmental health of the Coulee Region
What: Informal conversation and fun
Where: Fayze`s
When: Tuesday, June 20 @ 6:30 p.m. The 3rd Tuesday of every other month.
Why: The Coulee Region's environment deserves our focus
Green Drinks is an international concept with gatherings all over the world. There are several gatherings in Wisconsin. This is the first in La Crosse. There are no dues, fees, agenda, board, minutes, attendance or programs. We hope you will find a lively mixture of people with similar interest in environmental health and learn new ideas as well. A calendar of upcoming events will provide an opportunity to choose areas of interest. Pay for a drink, stay for the conversation.
Contact: Chris Schneider at chris-hybridguru@centurytel.net
...more

Ken Notes: Any interest in a Madison chapter???
---
The Energy Fair features over 200 exhibitors related to renewable energy, energy efficiency, and sustainability. Booths include artisans, solar installers, sustainable product vendors, non-profits, and more. Learn all about about clean transportation options and view a range of electric cars, bikes, and motorcycles. Electric vehicle charging available...
...more
---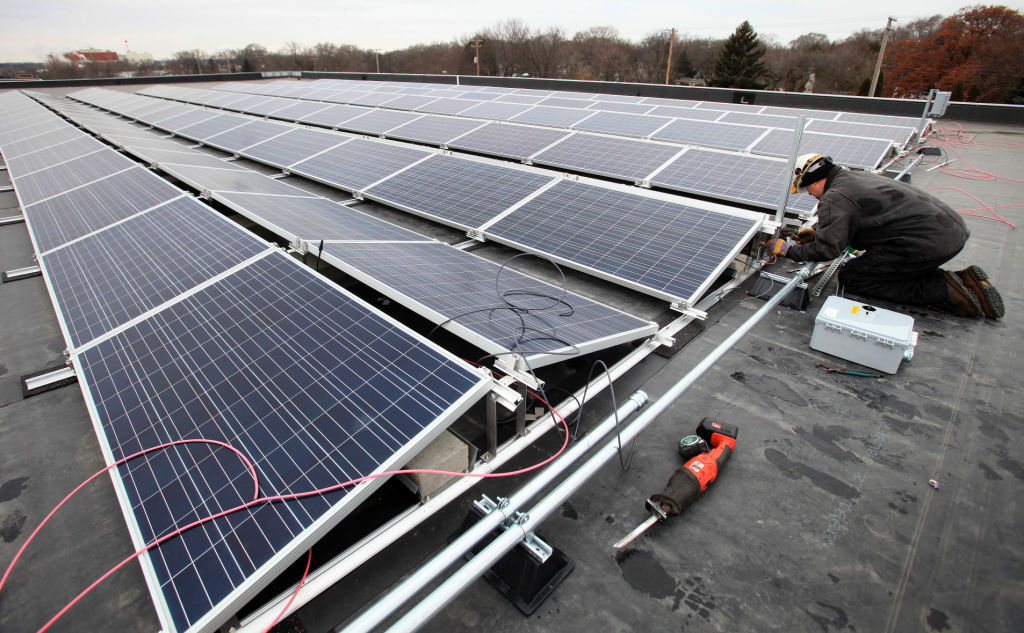 Recent news about the U.S. commitment to the Paris accords on climate change prompted those of us at Econ Quiz to wonder exactly how many jobs in Wisconsin are related to energy generation using fossil fuels as compared to new technologies, such as solar, wind or ethanol.
Thinking only of jobs related to energy generation, how many jobs in Wisconsin are in energy generation using fossil fuels, such as coal or natural gas?
Answer - 3,422
In comparison, how many jobs in Wisconsin are related to energy generation using alternative technologies such as solar, wind, corn ethanol or woody biomass?
Answer - B. 7,362
...more

Ken Notes: Without getting yelled at, may I ask how much each industry spends on lobbying or local officials. Follow the money and for the record I am STILL a pro business fiscal conservative. Like a good conservative business, we should invest in our future....
---
Updated Information
Midwest Environmental Advocates — on behalf of the Ho-Chunk Nation — has filed a petition to challenge the wetland fill permit issued to Meteor Timber LLC for an industrial sand processing facility and rail project.
Clean Wisconsin on June 19 filed a challenge to a wetland fill permit in northern Monroe County because it would allow an out-of-state logging and frac sand company to permanently destroy more than 16 acres of a rare and valuable wetland forest....
...more

Ken Notes: If you question the Value of WDNGreen, I ran this story last week, and this week dozens of NEW news outlets across the state ran the story or a version of it. I send to well over 500 media outlets, reporters, and other aggregators and blogs each week and encourage them to tell the environmental story to Wisconsin.

Media Note: You may ALWAYS use my comments or parts there of with a simple credit to: Ken Harwood Editor WDNGreen.com. You may also call for more 608.334.2174. And WG I love the turtle...
---
An Evangelical Christian minority supports the environmental science of global warming. Au Sable Institute in Wisconsin refers to environmental protection as "creation care." These Christians regard global warming as a human threat. Third World poor people face the brunt of this scourge. Rising temperatures cause hurricanes, drought and flooding that destroy their crops and homes.....
...more

Ken Notes: Arghhhh! This one drives me crazy, as a christian let me simplify the debate. This is not about Global Warming, or Donald Trump or the liberal tree huggers. This is simple -- too much Carbon is bad for our children and grand children (not to mention us). It can make you ill, pollute our water and air, and makes us dependent on foreign interests who have more of it than we do. We now have technologies that can reduce carbon and produce power from more sustainable sources that we have plenty of, like sun and air. These technologies can also help feed the hungry, heal the ailing, and provide a better life for all humanity. I do not care about global warming, because there are even better reasons to shift our focus to more efficient sustainable production of: energy, light, transportation, technology, and agriculture. To suggest we NOT pursue these in a cost effective and sustainable manor, that is better for our grandchildren, is the most unchristian thing I have ever heard.

"But if anyone has the world`s goods and sees his brother in need, yet closes his heart against him, how does God`s love abide in him? Little children, let us not love in word or talk but in deed and in truth." -- 1 John 3:17-18
---
As some homeowners associations debate whether solar panels should be allowed, at a new Milwaukee-area subdivision, they will be mandatory.
Ground was broken in late May on Red Fox Crossing, a 34-home development where deed restrictions require solar installations, with the cost paid back through the mortgage.
The developers and other local experts said they don't know of any similar development in the Midwest. But the quickly dropping cost of residential solar mean such arrangements could become increasingly common, especially in places like Wisconsin that have relatively high electricity prices.
Matt Neumann, CEO of the developer

Neumann Companies

, is confident the development will sell out and that the solar installations will be a strong selling point. After incentives are figured in, the 6-8 kW arrays will add about $15,000 to the cost of each home. The 1,900- to 2,200-square-foot homes are expected to sell for $450,000 to $650,000 each.
...more


Ken Notes: I love this, I would also like to see a development focusing on ultra affordable micro homes that are net zero. Imagine a sub 20K home or condo unit for those in need who demonstrate a willingness to care for and improve both a property and community....
---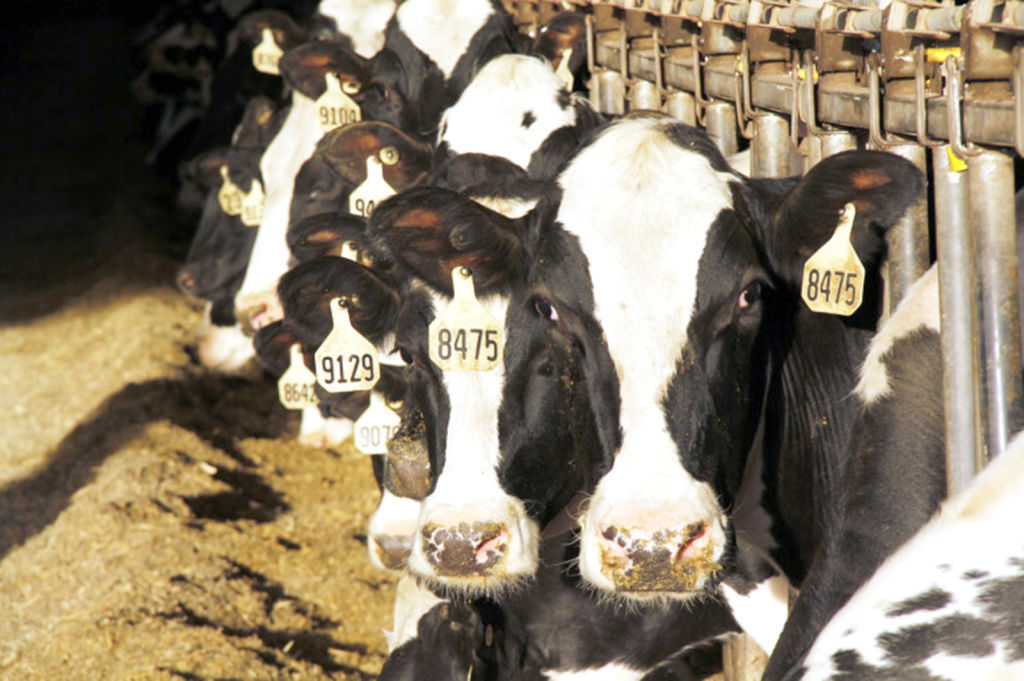 For a farmer, getting the news that you no longer have a market for your product is devastating. I know — I got one of those letters a few months ago. It is especially problematic if you are a dairy farmer, since cows need to be milked every day. So, in April, when 75 Wisconsin farmers were notified by their milk buyer, Grassland Dairy Products, that they would no longer have a market, state government officials took notice....
...In 2003, the Wisconsin Legislature passed Act 235, a bill that limited the ability of local communities to oppose large farms...
...As the number of Wisconsin dairy farms has fallen from 14,265 to 9,230 over the past 10 years, those that remain have obviously gotten larger, much larger. The concentrated animal feeding operation, CAFO, is the preferred model for the future of dairy production in Wisconsin, as CAFO numbers have grown from 50 in 2000 to 252 in 2016....
...more

Ken Notes: I have a plan, call it CAFO`s for Wisconsin. I would require that all farms with over 1,000 head digest manure on site and pasteurize their effluent. At 165 degrees this manure becomes a marketable product valuable world wide. We get energy, jobs, and the milk the governor wants. Prices (my plan raises the cost of CAFO product slightly to make it competitive with smaller farms) and farmers are protected, and Wisconsin becomes a model for dairy farming worldwide....
---
In a state where the landscape tends towards low-lying swamps, flat fields and rolling hills, northern Wisconsin`s Penokee Range of mountains are a dramatic outlier. Though their elevation is relatively modest - the Penokees are often just called hills - the range stands out. Billions of years of geologic processes, a cataclysmic meteor impact and changes in Earth`s atmosphere all contributed to shaping a land with striking visual and physical properties...
...more

Ken Notes: They are cool, and an unknown potential tourism gem. Unfortunately the iron value is much better known...
---
SunPeak is a turnkey developer of commercial solar PV electricity systems based in Madison, Wisconsin. Businesses can be assured their turnkey project will be professionally handled from initial feasibility study to final commissioning. Projects typically range from 100 kW to 5 MW (hundreds to thousands of solar panels) and offer significant cost savings relative to conventional utility electric rates.
---
Even as President Trump said he would pull the United States out of the Paris Climate Agreement, the governors of California, Washington, New York, Massachusetts, Vermont, Connecticut and Rhode Island have banded together to continue to work toward meeting the targets of the global climate accord.
These seven states represent almost 15% of the country's emissions. Two of the governors are Republican.
Many businesses also want to remain in the accord, including Exxon Mobil and Chevron. They understand the global business opportunities and technology sharing that come with being a leader in this agreement.
On May 10, thirty CEOs wrote an open letter to President Trump, taking out a full-page ad in the Wall Street Journal, saying, 'We are writing to express our strong support for the U.S. remaining in the Paris Climate Agreement.' ....

...more

Ken Notes: Carbon emissions are bad for our grandchildren.

I do not want to debate climate change. I want to find the lowest common denominator, I believe carbon emissions are bad for our grandchildren. The cleaner we can produce energy and manufacture our products, the better the world will be for our grandchildren. We have inherited a better world from the previous generation because our parents and grandparents chose to clean up our waterways and source point pollution. Now regardless of our opinions or views of science and available resources, we need to do the same for our grandchildren. I have met mine and they are worth it.
---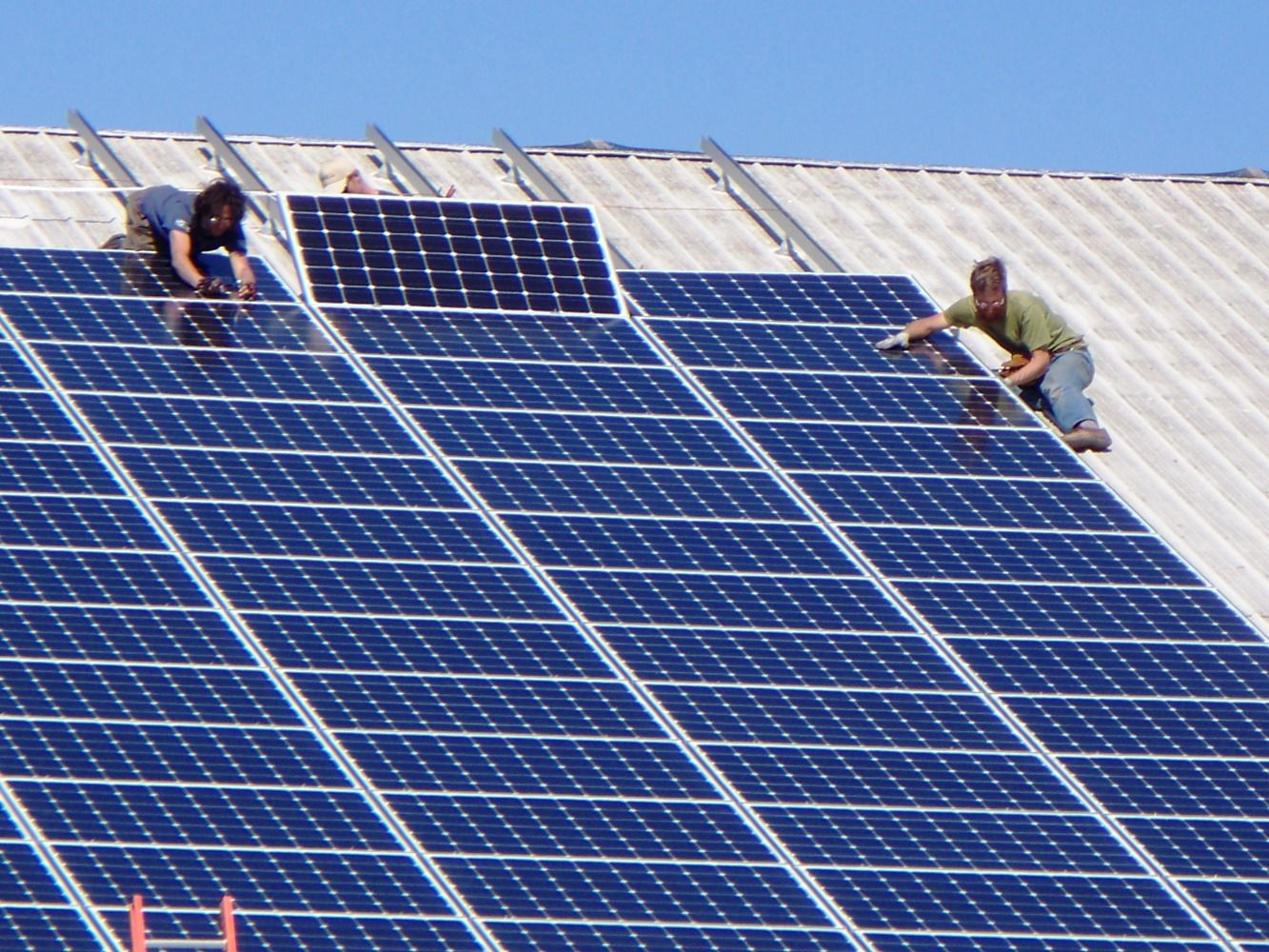 Madison Area Technical College is set to install Wisconsin's largest rooftop solar energy system, college officials said Thursday.
The $2.3 million project could save the college more than $200,000 a year in electricity costs. MATC said it will pay $1.8 million for the project, while a Madison Gas & Electric Co. grant will cover the rest.
Rooftop repairs and upgrades are part of the project, bringing the total to about $3.5 million, said Ken Walz, MATC renewable energy instructor and director of the Center for Renewable Energy Advanced Technological Education...
...more
---
Advocates Say Line Would Be Good For Wind, But Critics Question Need
A proposed transmission line that would span from southeast Iowa to Middleton has environmental activists split.
Despite being in the planning stages, the Cardinal-Hickory Creek Transmission Line has emerged as a divisive issue in the region. While the exact route hasn't been finalized, the line would crisscross the Driftless Region of Wisconsin, with the intent of connecting wind farms in the area to the power grid.
Advocates for the project, which would cost an estimated $500 million, say it's needed to boost the flow of clean energy....
Ken Notes: I suggested in WDN and DriftlessNotes that a trail through the Driftless with access to camping, biking, hiking, and nature would be as close as a win win as we could get. Other States have done this successfully!

...more
---
In a move that effectively ends a seven-decades-old tradition of public exhibition that attracted hundreds of thousands of visitors annually, the Department of Natural Resources will no longer operate a major venue at the Wisconsin State Fair in West Allis....

....The DNR had provided a major exhibit on a 2-acre site at State Fair Park since 1948, Wisconsin`s Centennial....
...Hoskins estimated the agency would maintain only about 2% of its former presence at the fair....
Ken Notes: Since I am often critical, I do want it applaud the legislature for the Legislature`s budget committee rejection of Walker`s plan to eliminate the magazine. The Wisconsin Natural Resources magazine will now be published four times a year.

...more
---
he

Willy Street Co-op

natural foods grocery store in Madison is a place where some people come three times a day to eat, shop or just hang out listening to musicians who play outside. The co-op's mission is to be environmentally and socially sustainable, so generating power with rooftop solar was a no-brainer.
But after the cooperative's small solar installation was damaged during a storm three years ago, members worried about how they would afford a new array...
...Third-party ownership is when an entity other than the host owns or co-owns the solar installation. Such arrangements are especially important for nonprofit institutions like churches and schools that can't otherwise use tax credits to help cover the up-front cost of solar...
...more

Ken Notes: Wouldn`t be nice if the third party owners were the utilities themselves. They could compete with others on a level playing field and we would see the program explode. I worry about asking the PSC or legislators for a ruling now because the lobby money is on the side of the utilities and currently some do not want third-party ownership. P.S. I have 600 feet of due south 7/12 steel roofing in Albany Wisconsin available....
---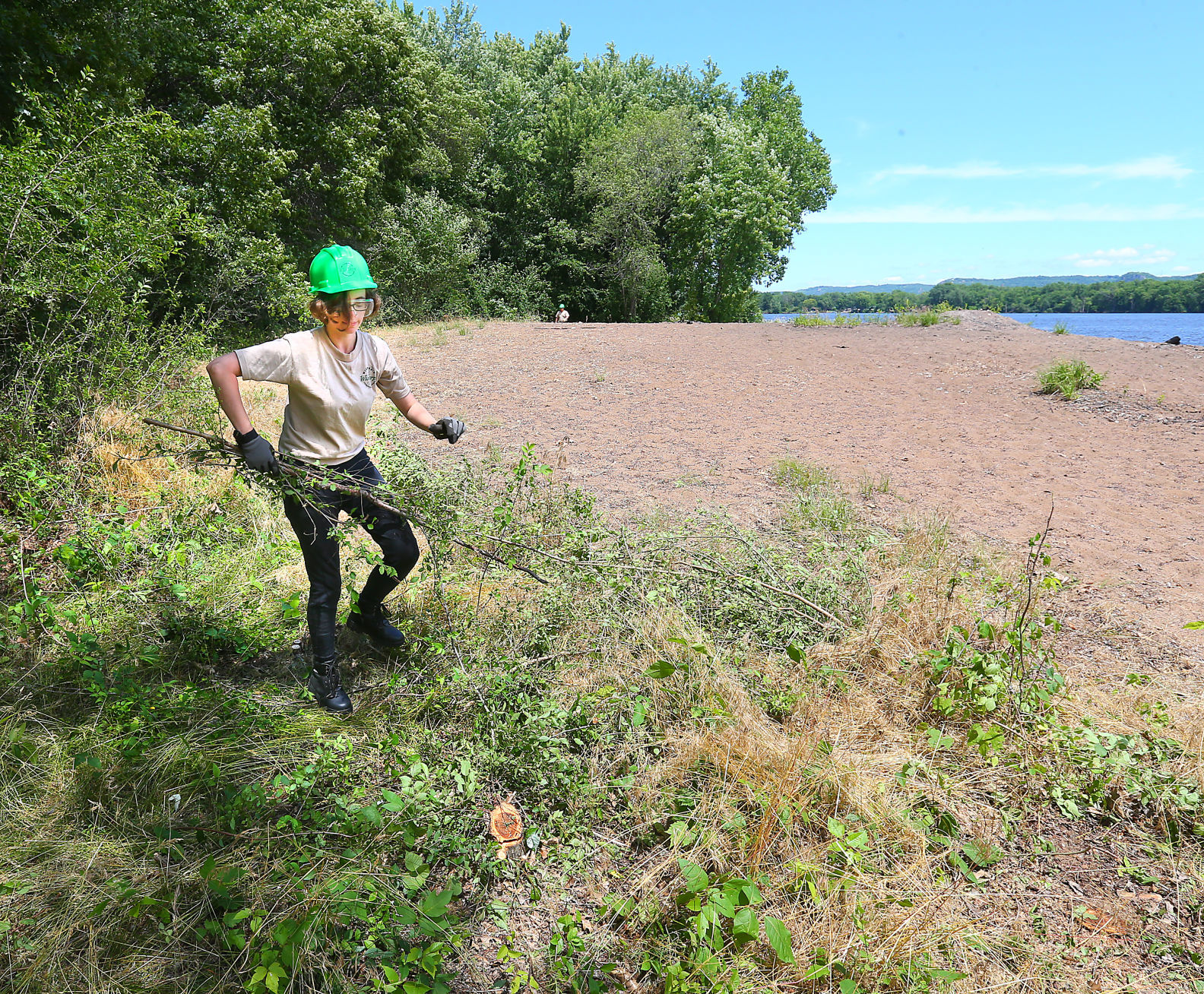 A team of young people from across the country is spending the week on a Mississippi River island as they work to make some of the river's public beaches a little more hospitable for campers.
The WisCorps conservation crew is working under a contract with the Wisconsin Department of Natural Resources to clear invasive species and poison ivy from 18 beaches between La Crosse and Brownsville, Wis....
...more

Ken Notes: GREAT Idea!!!
---
...more
---
Miron specializes in providing innovative pre-construction, construction management, design-build, general construction and industrial services.
---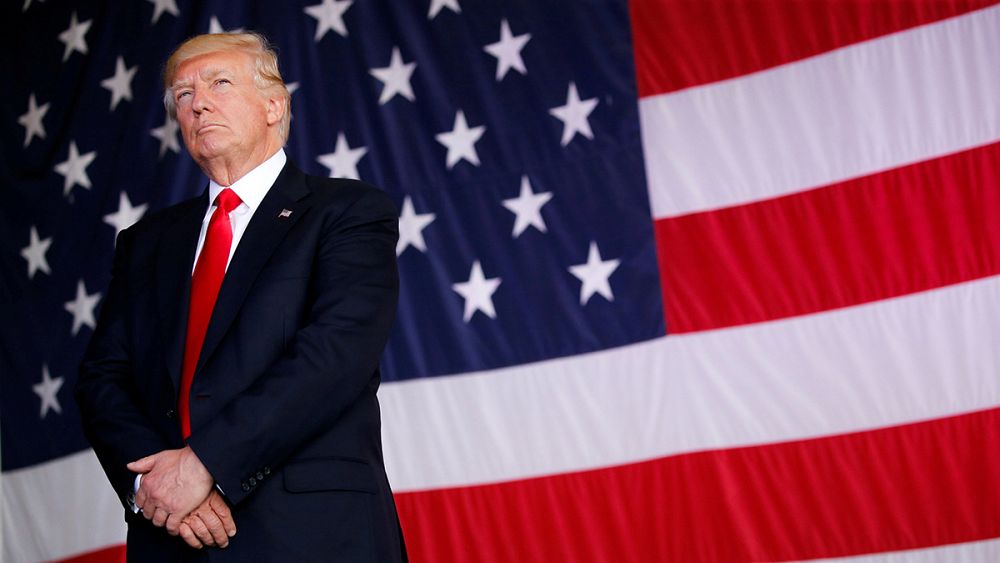 The United States is the world's second biggest producer of carbon dioxide (CO2) after China, figures show, as the world reacts to Donald Trump's decision to abandon the Paris Climate Agreement.
The US President announced this week the country would withdraw from the accord, ending what he said were "draconian financial and economic burdens the agreement imposes on our country"....
...more
---
An examination of shared solar programs across the country reveals diverse pathways to success
With almost two-thirds of utility professionals expecting moderate or significant growth in community shared renewables over the next ten years, it is time to look at what works and what doesn`t for utility-led programs.
Investor-owned utilities (IOUs) now have 13 community solar programs representing 91 MW of capacity, according to Dan Chwastyk of the Smart Electric Power Alliance (SEPA). Municipal and public power utilities have 22 programs with a combined 29 MW capacity.
But the most prolific utility-builders of community solar are electric cooperatives. According to SEPA, they have 63 programs with a 43 MW capacity, but the National Rural Electric Cooperative Association says there could be twice that much....
...Xcel Energy is working with Pristine Sun to develop a 2 MW community program in Wisconsin, said Lee Gabler, director for customer solutions. It is also partnering with the Midwest Renewable Energy Association on marketing....
...more
---
LA CROSSE, Wis. (AP) — An environmental conservation program based in western Wisconsin plans to expand its work opportunities and environmental education program to people of all abilities.
WisCorps has hired someone with a visual impairment and another person with a physical disability to work on erosion control and planting in neighborhood parks, and building accessible gardens this summer, Wisconsin Public Radio reported.
...more
---
While President Trump sings coal`s praises, efforts to green America`s economy are receiving a boost from an unexpected quarter: Republican-held governors` mansions.
Nevada Gov. Brian Sandoval is fresh off a legislative session in which he signed nine bills aimed at supporting the clean energy sector. In Florida, Gov. Rick Scott recently signed a tax exemption that solar installers say is essential to jump-starting the residential and commercial market in the Sunshine State. And in Iowa, where wind now accounts for 36 percent of the state`s electricity generation, newly installed Gov. Kim Reynolds recently finished an energy plan that calls for growing the wind, biofuels and solar industries....
...The maturation of the wind and solar industries is opening the door for Republicans to back renewables, industry and state officials said. Utility-scale solar and wind costs have fallen by 85 percent and 66 percent, respectively, since 2009, according to Lazard, an investment bank....
...more

Ken Notes: Can we forward this to the Governor! It is good for the economy.
---
A native of the Midwest, Liz Anna Kozik spent much of her childhood surrounded by prairies. Yet it wasn't until Kozik left her home in Naperville, Illinois, for her undergrad studies in Rhode Island that she began to appreciate their beauty. She opted to go to graduate school at the University of Wisconsin – not just so she could be close to the prairie again, but also to study the grassy habitat's history.
In April, as part of her master of fine arts thesis, Kozik unveiled the art exhibit "Stories of the Land" at the UW–Madison Arboretum. The exhibit tells the stories of Curtis Prairie, which was the first prairie restoration in the world. Kozik wanted to really give a visual demonstration of how prairies had changed and what impact restorations have, so the exhibit features a mixture of custom-built wooden signs, comics and hand-woven tapestries...
...more

Ken Notes: Thumbs up... way up!
---
Federal Agencies Worked With UW-Oshkosh To Investigate Private Well Contamination
People in Kewaunee County are getting sick by drinking water from private wells. That`s a preliminary conclusion from the leader of a study on the region`s groundwater.
A U.S. Department of Agriculture microbiologist presented preliminary findings of a two-year groundwater study on Wednesday night in Kewaunee County.
In Kewaunee County, 4,896 households depend on private wells.
Mark Borchardt, a microbiologist with the USDA, and a team from the University of Wisconsin-Oshkosh, randomly monitored 621 wells. They found about 380 county residents are at risk of contracting a stomach parasite every day....

...more

Ken Notes: Have I mentioned 165 degrees...
---
WisCorps Plans To Offer Inclusiveness In All Programs By 2018
An environmental conservation program based in La Crosse is hoping to become one of the first in the nation to expand its work opportunities and environmental education program to people of all abilities.
WisCorps is one of eight conservation corps in the state and about 130 nationwide with roots in the Civilian Conservation Corps, a program created to put people back to work during the Great Depression. ..

...more

Ken Notes: More details...
---

WGBA has combined forces with the U.S. Green Building Council (USGBC) and together we will pilot a new model for USGBC chapters and local market engagement...
---
Technology often marches ahead of the ability of government regulators to keep up. A prime example is the internet, which surged ahead in its formative days in part because there was an absence of red tape to hold back its pioneers.
Autonomous vehicles are another example. Researchers and industry are racing to develop, test and eventually market self-driving vehicles, from cars to trucks to small sidewalk delivery robots. The trick for government is how to monitor public safety without forcing unnecessary detours to innovation....
...more
---
MADISON - Gov. Scott Walker privately signed controversial legislation Thursday to let farms and businesses keep their large-scale wells without added oversight from Wisconsin regulators.
The GOP governor`s approval of the high-volume well measure marks a win for those seeking to maintain and expand irrigation for agriculture, especially vegetable and dairy farms in central Wisconsin. The practice has become more controversial as lakes and streams in that region have lost substantial volumes over the last decade.
The proposal`s prominent sponsor, Senate Majority Leader Scott Fitzgerald (R-Juneau), has called the legislation a "pro-farm" measure, noting that Wisconsin produces some of the largest amounts of vegetables in the nation. ...

...more

Ken Notes: I would love to hear from farmers on this issue. My understanding is that it is larger operations and CAFO`s that need the deep wells. This would be a small percentage of actual farmers in the state????
---
Minnesota Power and the Dairyland Power Cooperative this week said they plan to co-develop a 525-550 MW combined-cycle natural gas-fired power plant in Superior, WI, to support major wind and solar investments in their service territories.
The entities plan to invest $350 million in the Nemadji Trail Energy Center, which would be built at a shovel-ready industrial site along the Nemadji River that has access to existing natural gas pipelines. Regulatory filings are planned for later this summer, and the facility is expected to be in service by 2024.
Minnesota Power, a utility division of the publicly traded energy provider Allete Inc., would purchase 250 MW of power from the facility under a joint ownership structure with Dairyland. As part of the company`s filing with the Minnesota Public Utilities Commission, Minnesota Power would request another 250 MW of wind power capacity and 10 MW of solar power. The combined-cycle facility would complement the company`s renewable resources as capacity backup and would help fulfill its initiative to cut carbon emissions.
...more

Ken Notes: Shhhhh, don`t tell the powers that be about the new jobs, construction jobs, sustainability, low cost, low carbon, 700 million investment.....
---
Wisconsin's environmental protection agency has authorized a Georgia timber company to fill more than 16 acres of Monroe County wetlands in order to build a $65 million frac sand facility.
Meteor Timber, one of the largest private landowners in Wisconsin, has proposed building a processing and loading facility along Interstate 94 near the town of Millston to dry and ship frac sand the company will mine from a nearby site it acquired in a 2014 purchase of nearly 50,000 acres....
...more

Ken Notes: The unfortunate reality is that the State and conservancies, do not own enough land. We need to use existing laws (like TIF) and create new ones to acquire lands for public use.
---
HURLEY - Iron County was recently represented at an international conference, as members of the Iron County University of Wisconsin-Extension Office and a Hurley student presented on ways the county has involved its youth in community development projects.
The Community Development Society and National Association of Community Development Extension Professionals 2017 conference held in Big Sky, Mont., ended Wednesday.
"We were there for the project we did in October with the trailhead designs," UW-Extension Youth Development Educator Neil Klemme said. "We were in a block of presenters talking about engaging young people and getting young people involved in that type of work."...
...more
---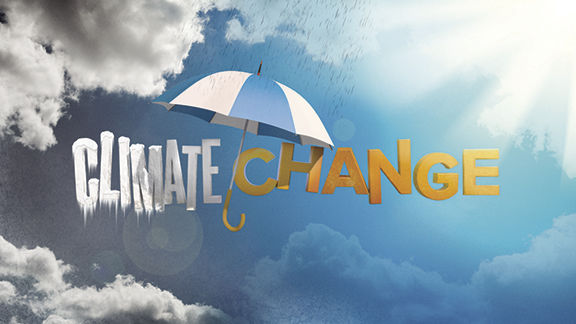 Monona Grove High School science teacher Juan Botella is disappointed with President Donald Trump's announcement earlier this month that the United States will pull out of the Paris Agreement, the multinational climate control accord intended to limit the increase in average global temperature to below 2 degrees Celsius.
"I'm very disappointed, very sad," Botella said. "I was still hoping he may remain in the accord."...
...more

Ken Notes: An educated opinion. I still suggest the climate change debate and focus on the overall harms of carbon in the atmosphere. Because many have their heads... I am interested in how you completed this statement?
---
On your next development project considering other options for disposing of contaminated soil could save you a significant amount of money on environmental compliance.
Circumstances sometimes dictate that a licensed landfill is your only option, but Wisconsin's solid waste laws allow you to dispose of some types of contaminated soil at other locations if the soil qualifies as low risk. Alternative options are available through an exemption process outlined in Wisconsin Administrative Code Chapter NR 718.
Who Can Apply for an NR 718 Exemption?...
...more
---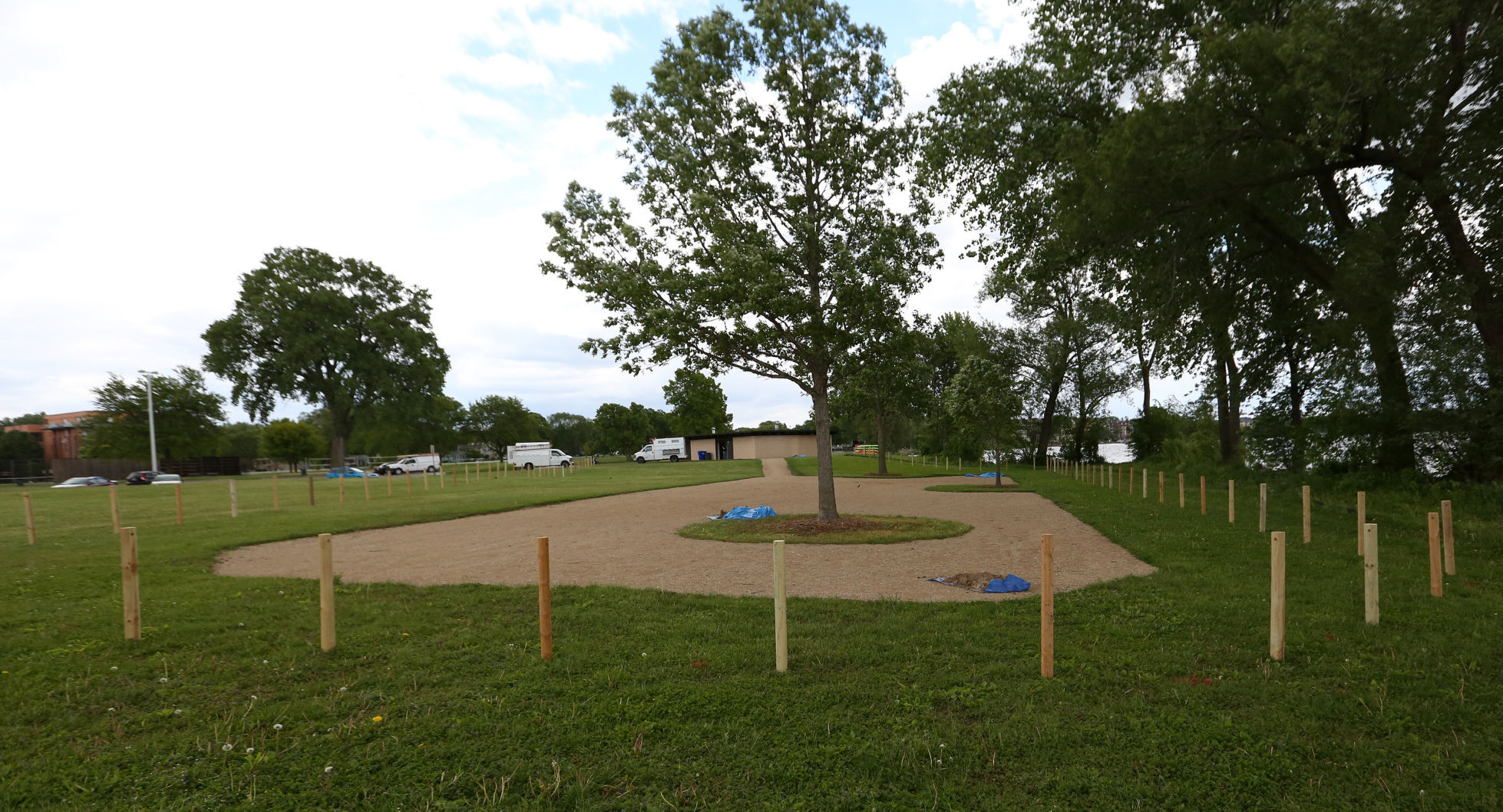 When Mayor Paul Soglin wrote on his blog last month that the city has a "no chemical" policy, Charlie Romines braced himself.
"I knew what was coming when I saw it," said the assistant parks superintendent. "And we got it."
They got it in the form of gotcha calls from residents who had spotted city workers applying chemicals at city parks and leaving behind warning signs that pesticides had been used...
...more

Ken Notes: Oops...
---
SCS - At the forefront of sustainable environmental solutions for over 40 years
---
Algae cover the surface of Wisconsin`s Lake Mendota, likely from fertilizer flowing downstream.
How healthy will Earth`s ecosystems be in 2027, 2067 and beyond? It`s an important question to ask, especially on World Environment Day, June 5.
To find answers, scientists affiliated with the National Science Foundation`s (NSF) Long-Term Ecological Research (LTER) network came together this spring at an NSF LTER mini-symposium.
...more

Ken Notes: A National Science Foundation article features a picture of lake Mendota and the Algae caused by fertilizer. WE NEED TO FIX THIS by working with farmers, homeowners, and property owners on the Yahara watershed...
---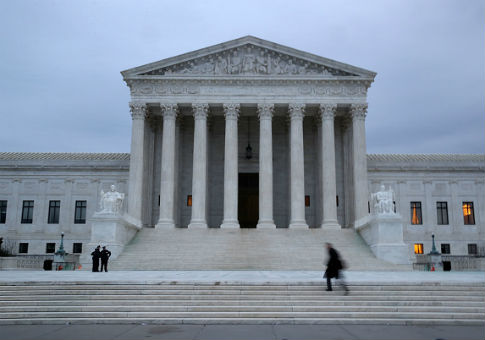 The Supreme Court on Friday ruled against a Wisconsin family and in favor of the government in a case that pitted property rights against environmental concerns.
The ruling makes it easier for the government to limit development in "environmentally sensitive" areas, the Associated Press reported...
...more
---
Homeowners in Wauwatosa that desire to lower energy costs have a new option.
A group called Solar Tosa is seeking to combine Tosa homeowners into groups in the effort of creating an opportunity to install cost-effective solar power.
"We promote renewable energy through education," Peter Murphy, Midwest Renewable Energy Association solar program manager said. "We get the best possible price for the consumers."...
...more
---
A London-based advocacy group said this month it documented 185 killings of environmental activists around the world last year, nearly 60 percent more than in 2014 and the highest since it began collecting data dating back to 2002.
A London-based advocacy group said this month it documented 185 killings of environmentalists around the world last year, nearly 60 percent more than in 2014 and the highest since it began collecting data dating back to 2002....
....Marcio Astrini, public policy coordinator for Greenpeace in Brazil, attributed the killings to a lack of government presence in areas where land conflicts and deforestation are taking place....
...more

Ken Notes: Who knew... Still glad to live on the US I guess... Also I need to quote one of my favorite mentors, "the best way to effect change is with a seat at the table and better ideas."
---
The giant Taiwanese company that has said it is considering investing billions to expand its television panel manufacturing to the U.S. – and possibly to Wisconsin – wants a 1,000-acre site for the operation.

Maybe..
The immense size of the parcel specified in the company's recent request for proposals – as big as the Village of Shorewood – indicates the scope of the potential manufacturing complex....
"Whatever you do in your life, and whatever we do at Apple, we must infuse it with the humanity that we are born with,"

Tim Cook

...more

Ken Notes: Remember Win Win... With Apple firmly behind us, we can ask for positive environmental offsets for any impact the siting of Foxconn may have. This may actually HELP us win the company over. What if we asked Foxconn to buy some land up north for public access. Have you heard about our mountain range????
---
Bob Wills was a teenager on the first Earth Day—April 22, 1970—and he still remembers the significance of that event. He later went on to work for Earth Day founder, Gaylord Nelson, a staunch environmental activist who also was Wisconsin's 35th governor and a U.S. Senator.
Given Wills' history, it's no surprise that the longtime owner of Cedar Grove Cheese in Plain, Wis., wanted to go green when converting a former Historic Third Ward brownfield site into what is now Clock Shadow Creamery....
...more
---
Cryptosporidium. E. coli. Salmonella. Rotavirus A.
That reads like an inventory of pathogens from a biomedical research lab. Unfortunately, it's actually a list of the dangerous fecal pathogens you can find in Kewaunee County residents' drinking water.
Kewaunee County and its neighbors have a serious groundwater contamination problem. People are getting sick, and not just with a 24-hour bout of food poisoning. The pathogens found in residents' wells can be life-threatening, especially for young children and the elderly....
...more
Ken Notes: We should have an independent DNR. Alas it isn`t so...
---
T.B. Scott Free Library "flipped the switch" Thursday on a new 27.25 kilowatt solar power array expected to provide about 15 percent of the library's annual electricity usage, according to North Wind Renewable Energy, the project's installer....
...more

Notes:
---
Cleaner Water Means Park Could Have Swimming Again After More Than 70 Years Without One
Across Wisconsin there are state and federal efforts to reduce industrial pollution in waterways.
In some cases they have brought back aquatic life. In Green Bay it could mean bringing back a city beach that`s been closed since the 1940s.
The Fox River runs into the bay of Green Bay, and Bay Beach, a city park, sits near the confluence....
...more

Ken Notes: I have a simple question that will anger many. If we had spent the same money and focused on all aspects of a cleaner water system, could we have accomplished more than we have by focusing on PCB`s??
---
JANESVILLE -- Environmental activists often advocate for issues that might arise in the future but are not currently pressing.
Enbridge Energy officials say they have no plans for a new Wisconsin pipeline. Still, a crowd of about 25 people marched through downtown Janesville on Saturday to oppose the idea of a new pipeline.
Each day, a 42-inch pipe known as Line 61 carries 900,000 barrels of bitumen -- oil from the Canadian oil sands, or tar sands -- through Wisconsin and beneath multiple rivers and bodies of water....
...more
---
STURGEON BAY - The potential impact of pollution from a proposed open-pit mine will be discussed Tuesday.
The Back Forty Mine is planned along the Wisconsin-Michigan border to extract gold and zinc sulfide and could pollute a nearby river that drains into Lake Michigan, according to the Democratic Party of Door County, which is hosting the event. ...

...more
---

The WI Sustainable Business Council is a network of Wisconsin businesses and organizations that are interested in, or actively responding to, the challenge of sustainability.
---
Employees of the Department of Natural Resources expressed concerns in emails in 2015 and 2016 about potential harm to lakes and streams from the construction of new wells in areas where irrigation was already widespread, court records filed on Friday show.
The emails were included in the latest documents of a 2016 lawsuit by an environmental group and lake association that challenged a major shift in state policy that weakened the regulation of high-capacity wells....
...more

Ken Notes: We are letting politics get in the way of employment and the ability of experts to express their opinion openly. We are also letting legislators make decisions based on campaign finance, partisanship, and personal interests rather than the interest of their constituency.
---
MADISON - Gov. Scott Walker signed legislation Friday that relaxes state rules on fish farms.
Assembly Bill 160 allows people who work on fish farming industry, also known as aquaculture, to dig, dredge and conduct repair work on their ponds and holding areas for water without a general permit or individual permit issued by the Department of Natural Resources.
Those in favor of the legislation argue it will boost Wisconsin`s fish industry, which they say has declined in recent years due to burdensome regulations...
...Opponents of the bill raised concerns over the state`s water quality....

...more

Ken Notes: Why do we try and fix process problems (getting permits and approvals) by eliminating the results of the process, safer products. If we had to wait years to apply for and get a drivers license should we eliminate the need for them at all (and why do we need patrol officers). We would, and have, improve the process and that is what we should do here.
---
Links we like supporting Wisconsin`s Environment and Business. More will follow each week...
...more
Ken Notes: Share this and if you want to be included:
Call us - 608.334.2174 or Editor [at] WDNGreen.com....
---
A fight that involves dueling environmental constituencies is brewing over plans for a massive transmission line that would run through the Driftless Region of southwestern Wisconsin.
Developers say the estimated $500 million, 125-mile line would help buttress the regional power grid and provide access to lower-priced electricity in Iowa and other states.
But like the clamor that has erupted over construction of oil pipelines, transmission lines also engender strong emotions, with opponents often raising environmental objections...
...more

Ken Notes: I can fix this. Ask the developers to add a 125 mile trail and recreational facilities through the Driftless region to promote tourism, camping, local products, and awareness of the region. Using nationally accepted figures the trail would cost about 20 million.
---
MADISON, Wis. (AP) — The state Assembly is set to vote on a bill that gives legislators the power to reject new administrative rules that are expensive for businesses.
Under the measure, any new rules that`d cost an industry or business more than $10 million over two years would need legislative approval within 70 days or automatically fail. The bill would take other steps to make it more difficult for state agencies to approve new rules, which have the force of law....
...more

Ken Notes: Now I will upset many of my readers, I have often seen environmentalists reject projects even when compromise could benefit the environment. Just say no is not the answer nor is just say yes. We must have a nonpartisan approach to a balance between business interests and our environment.
---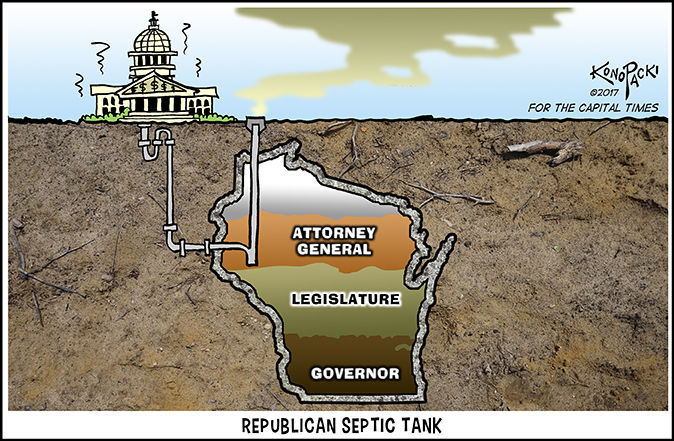 The late great TV news anchor Walter Cronkite didn`t get it wrong many times during his career, but there was one incident that I have always remembered....
...We now live in a state where corporations are routinely awarded permits to sink high-capacity wells in areas where the water table has been dwindling for years, where homeowners` wells are contaminated with runoff from the proliferation of megafarms, where wetlands are being filled to accommodate an out-of-state frac sand mining corporation.
The harm being done to the state`s environment may not be all that noticeable now, but in years to come, all Wisconsin will pay the price.
Walter Cronkite would find it hard to believe.
...more
---
BROWN COUNTY, Wis. - Brown, Marinette, and Door County leaders are all taking stands against the Back 40 Mine project that could pollute Wisconsin`s waterways and threaten water quality.
The Brown County Board of Supervisors and the Marinette County Board of Supervisors have both passed resolutions condemning the mine and the environmental devastation it would cause.
Door County is following suit, and committees will look at the resolutions already passed to help create their own against the Back 40 Mine. ..

...more
---

Our ecological staff provides needed information to clients, enabling them to make informed decisions about their land use planning efforts and site development decisions. Our goal is to facilitate our clients' project needs without compromising the important values that natural resources provide to the community.
---
The River Alliance of Wisconsin, an environmental advocacy group based in Madison, recently produced three videos featuring Wisconsin citizens concerned about the proposed Back 40 Mine. The proposed open pit sulfide mine is planned for the banks of the Menominee River near Stephenson in Michigan`s Upper Peninsula. The river forms the border between Wisconsin and Michigan - and is shared by both states...
....To see the videos, head to the
River Alliance of Wisconsin
website.
...more
---
Ashland recently received a state grant to help move the city toward energy independence. The money will be used to realize energy savings in city operations.
Ashland has been awarded about $35,000 from the Wisconsin State Energy Office. The money will be used to update the city's comprehensive energy plan and upgrade motor equipment at its waste water treatment facility. Ashland Parks and Recreation Director Sara Hudson said the upgrades translate to cost savings for the city.
...more
---
Winter's last chilly gasps yielded to spring warmth a while ago, but an unfortunate part of its legacy lives on in the region's ponds and lakes now beckoning boaters and swimmers.
Rock salt and salt brines, applied to help keep roads clear of snow and ice, linger in the environment long after they have served their public safety purpose, blurring the line between fresh and salt-water bodies.
"We have a legacy of salt in the environment built up over the last 70 years," said Hilary Dugan, researcher at the University of Wisconsin-Madison's Center for Limnology and co-author of a recent
study
quantifying salt levels in Northeast lakes....
...more
---
If you've never been camping before and always wondered what it must be like to fall asleep under the stars, Seth Porges has a perfect, tiny solution.

"I needed a way to disengage with the day-to-day stress," he told TODAY.
Porges spent more than a year searching for the right hideaway to nestle in the rolling hills of his friend's 27-acre farm, which is surrounded by vineyards, old horse stables and a chicken coop in Marlboro, New York....
...more
---
We try to include links to help you consider your GREEN economic development options in Wisconsin. Businesses feel free to send us your information here.
...more
Ken Notes: Feel free to include this link and logo on your website. Our Tools and Resources are always a
click
away. Also a new easy to use address:
www.WDNGreen.com/tools/
---
Coverage of local and national eco news for commercial development, home, transportation, food and community. We search for environmentally friendly news that makes economic sense for Wisconsin.
ONLINE HERE
. Please share with a friend. To receive WDNews GREEN on Monday of each week as an email you must subscribe -
secure link to subscribe is here
.
Want to comment, or have an idea:
Ideas[at]WisconsinDevelopment.com
We may now need to build a coalition that is willing to lobby from a "greener" yet pro business perspective. Lots of HUGE issues: Sand Mining, CNG, LEED Alternatives, Focus On Energy, LED Lighting R&D, Cleaner Power Generation, Recycling, Power Lines, Electric Cars, Wind, Solar, Bio Fuels, Digestors, Green AG, Business Incentives...And of course the Greenest and Happiest of Holidays to you!
Please consider sponsoring WDNGreen!
WDNews GREEN will be emailed on Mondays, included in WDNews on Thursdays, and online all the time at: WDNGreen.com Each week we will find 10 to 20 articles from Wisconsin and across the Nation dealing with environmental issues. Our goal is to promote environmental excellence from a sound business perspective.
Our resource guide at the bottom of this publication will continue to grow, and you may add links, suggest articles, include your press releases, or comment by
eMailing Me
. As always thanks for reading, and if you would like to sponsor or get involved call 608.334.2174...
...more
Ken Notes: Please forward this to friends and colleagues who have an interest in our economy and environment.
You may eMail Me Here
.
---
WDNGreen is a product of H2Integration....
Our Current Publications:
Green News Search
...more
Start Week: 22 - Query String:SELECT * FROM wdngreen WHERE `issue` > 22 and volume = 5 OR `issue` > 90 ORDER BY sortorder