---
---
Wisconsin regulators will only consider the proposed plant's site, not whether it is necessary.
Clean energy advocates will get a second chance to block a proposed natural gas plant in northern Wisconsin, though odds will not be in their favor.
The 550-megawatt, $700 million Nemadji Trail Energy Center is expected to go before Wisconsin regulators next year after winning approval from Minnesota's utility commission in October. The gas combustion turbine plant would be co-owned by Wisconsin's Dairyland Power Cooperative and a subsidiary of Allete, the parent company of Minnesota Power.
...more

Ken Notes: I think this plant will get built. It is not perfect but better than coal and will combine well with solar and wind options. We need to stand for the cleanest most environmentally friendly plant rather than a just say no approach.

If oil prices start to rise again, and all indications are that they will, gas will become even more affordable in the US making gas energy production more and more common. I would like to see an earn a plant credit system pairing gas with offsets in coal reductions or wind and solar additions...
---
When Lakeland Supply Inc. opened its new headquarters and distribution center this year in Pewaukee, the company paid special attention to the environment just outside the building as well as the ambiance inside.
Plantings around the facility, for example, are meant to attract bees and butterflies, whose populations have been threatened by pesticides, said company founder Larry Schmidt Sr. The landscaping includes native prairie grasses. New trees and shrubs have been planted on the site....
...more
---
The National Science Foundation on Nov. 20 released its 2017 Higher Education Research and Development (HERD) Survey data, showing that UW–Madison placed 6th in its rankings. In last year's HERD survey report, capturing 2016 data, UW–Madison also ranked 6th.
...more

Ken Notes: The UW should play a key role in our environmental leadership as the state moves forward. Please remember that businesses and energy producers are now on our side. Lets work together to create a real team to move sustainability and conservation forward as we again set an example for the rest of nation.
---
Power generators operating coal-fired power plants have to navigate a variety of regulations. Management of coal ash, primarily the handling and disposal of coal combustion residuals (CCRs)—the byproducts produced from the combustion of coal or the control of combustion emissions, including fly ash, bottom ash, and other materials that contain mercury, arsenic, and other toxins—is a major issue for these generators....
....Milwaukee, Wisconsin-based WEC Energy Group, which serves about 4.5 million customers in Wisconsin, Minnesota, Illinois, and Michigan, in an email to POWER said a majority of the utility's CCRs "are beneficially used. Our active landfills act primarily for temporary material storage and as a contingency if market conditions or regulations change. We use landfill cells for temporary storage for some ash that will be utilized during the construction season. We also have a storage pad that has a liner and leachate collection at our Weston Power Plant [in Wisconsin]."
WEC, whose brands include We Energies and Wisconsin Public Service (WPS), said We Energies does not use any wet coal ash impoundments. However, its WPS Weston site has a small bottom ash pond that is scheduled for ash removal and closing by 2021. The company's active landfills have liners and leachate collection systems. Most liners are composite compacted clay/geomembrane or geosynthetic clay liner/geomembrane. All of its ash disposal facilities are landfills designed to be closed in place by installing a final cover when final waste grades are achieved.
WEC also reburns some of its CCRs with coal "to recover residual fuel value in the materials and to improve the characteristics of coal ash for beneficial use." The group said it reburned 10,000 metric tons of coal ash in 2017...
...more

Ken Notes: A very long article about problems with coal had some nice things to say about Wisconsin`s efforts. We need to work with WEC to demonstrate how to close and clean a plant economically and environmentally friendly. The Wisconsin section is on page 4 of the article...
---
We Energies has proposed an innovative pilot project that would increase the amount of electricity it generates from solar power without passing the costs onto its existing customers.
The company also has proposed a smaller pilot project in which it basically would rent space for solar panels on the rooftops or property of commercial and industrial customers.
For the main project, large customers who want to support renewable energy could buy an interest in a solar project that We Energies would operate. The pilot project would be limited to 150 megawatts....
...more
---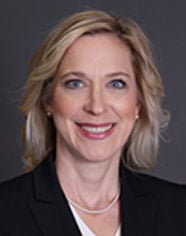 Wisconsin's top utility regulator has stepped down and will be replaced by his predecessor.
Gov. Scott Walker on Friday nominated Ellen Nowak, the current Department of Administration Secretary, to replace Public Service Commission Chairman Lon Roberts, who has announced his intention to resign later this month...
...more

Ken Notes: A return to political appointments here - what we need is people who will work with utilities, businesses, and those representing environmental concerns. Dare I dream???
---
SCS - At the forefront of sustainable environmental solutions for over 40 years
---
---
---
---
SISTER BAY, Wis. - Al Johnson's Swedish Restaurant & Butik has announced that it has received an award as the Best Small Business in America from Rubicon Global, a leader in providing waste, recycling, and smart city solutions to businesses and governments worldwide. The award is based on public voting, and as the winner, Al Johnson`s is being awarded a check for $10,000.

... Rubicon asks small businesses to tell their stories on what differentiates them from the rest and how they are using business as a force for social or environmental good. This commitment to social and environmental stewardship is a hallmark of Rubicon's corporate culture as a Certified B Corporation. Businesses are encouraged to list the challenges that they have faced and overcome to make the business successful, as well as socially and environmentally conscious...
...more

Ken Notes: Congrats and I agree it may have the best pancakes and coffee in Wisconsin....
---
7. Wisconsin has lost more than 1,086 dairy farms in the past two years, dropping to just 8,217 dairy farms as of Nov. 1. Here are some out-of-the-box ideas that you may not have tried to help lower costs or increase cash flow. – Wisconsin Agriculturalist
...more

Ken Notes: We must fix this or corporate farms and CAFO`s will dominate our landscape. We need smaller farms for better milk, better beef, better cheese, and better produce. We can increase our organic, grass fed, hormone free products only if we work to preserve the family farm.
---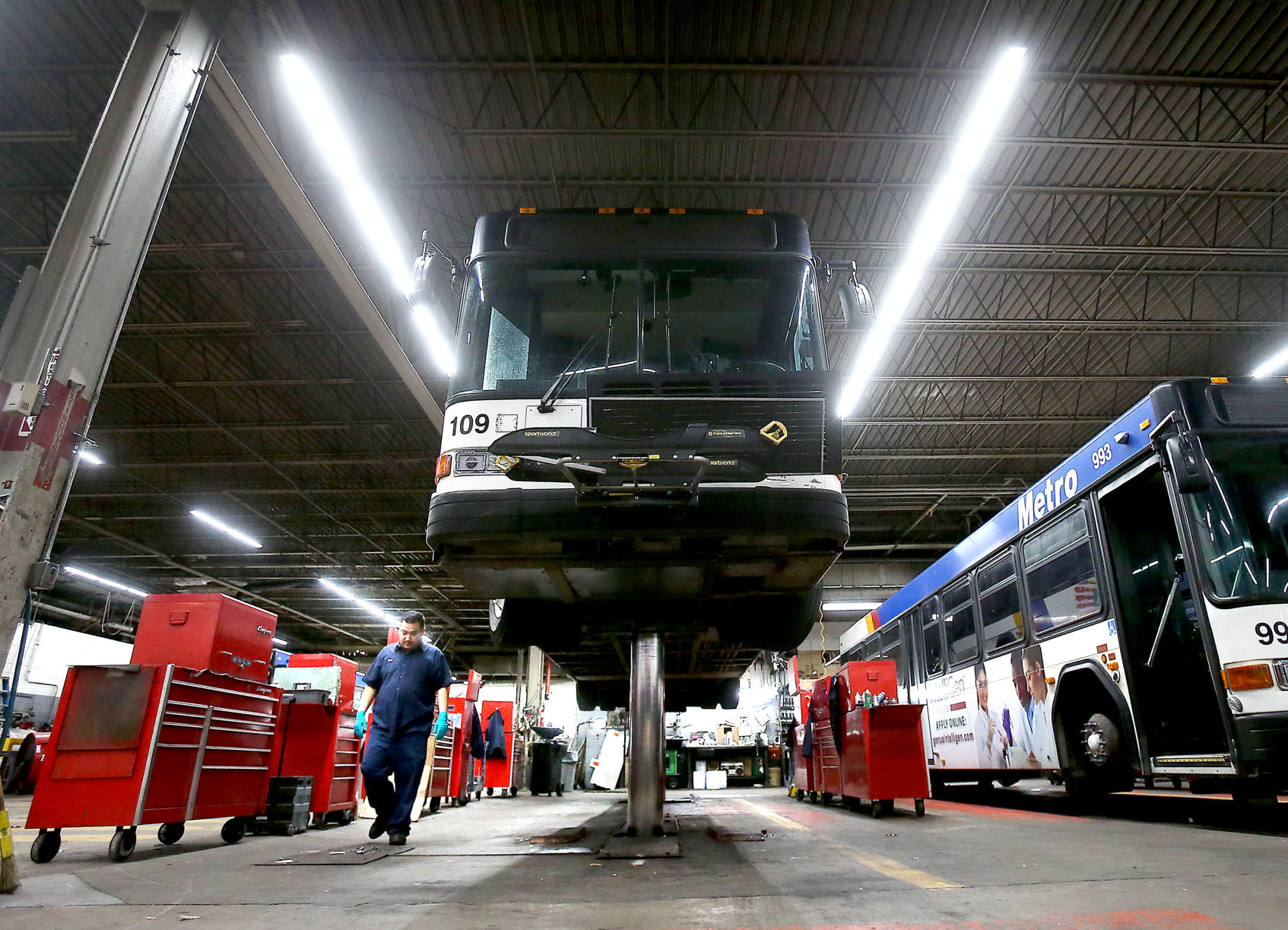 With sights set on eliminating carbon emissions, Madison is preparing to use some of the fines Volkswagen paid for cheating on emissions tests to buy diesel buses that will likely be on the road years after VW has stopped making gas and diesel engines.
Madison is in line to receive about $4.8 million in grants and loans from a $32 million pot of money administered by the state Department of Administration that will allow 10 cities to buy 58 new buses.
All but six of those buses will be powered by diesel engines, which generate about twice the climate-warming emissions of electric-powered buses in Wisconsin...
...more

Ken Notes: It is too bad we can not use this one time money to jump start our electric program rather than just buying more diesel units. Even a co-gen gas electric option makes more sense and I`ll bet MGE would help obtain and fuel CNG units. We may need to talk to city hall about this, a few well informed voices (and my readers are very well informed) could change this decision. The only thing necessary for the diesel to prevail is that good environmentalists do nothing.
---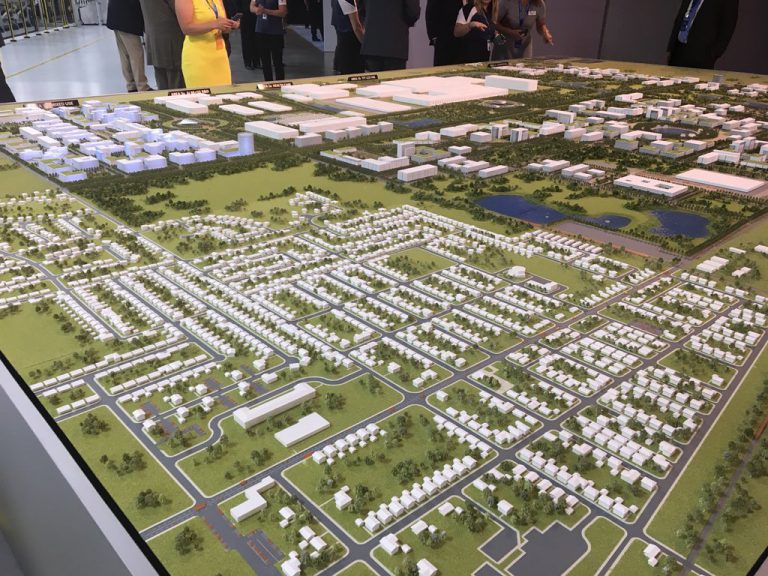 Wisconsin higher education community submits ideas aiming to help shape and change the future of health care, transportation, housing, and education

Milwaukee, WI – Foxconn Technology Group (Foxconn) today announced that it received 325 submissions from higher education students, faculty and staff from throughout Wisconsin for the first round of its "Smart Cities—Smart Futures" competition. The Foxconn initiative, which encourages the sharing of fresh ideas and unconventional thinking, saw entrants suggest ideas that use technology to address smart education, healthcare, transportation, and housing challenges.
The application period for the first round of the "Smart Cities—Smart Futures" competition was open from October 1st to 31st to students, faculty and staff at all University of Wisconsin (UW) campuses, technical colleges and independent colleges in Wisconsin. The competition aims to promote ideas that enhance quality of life, improve working environments, expand transportation networks and living spaces, inspire creative city planning, and promote sustainable energy solutions...
...more

Ken Notes: Once again Foxconn is making environmental overtures regarding "environmental sustainability in the manufacturing process and serving as a best-practices model for global enterprises". I hope we can hold them to this as the project move forward. I am worried that if we change the rules dramatically they will use this as an excuse to change the way they play the game. Trust but verify!
---
Mayors Fear Proposed Changes Will Weaken Multi-State Agreement
Great Lakes mayors in the U.S. and Canada said they want to slow down proposed changes to rules guiding water withdrawals from the Great Lakes. They fear the alterations will weaken a multi-state agreement that oversees the use of the lakes' water supply.
In 2008, governors in eight states passed the Great Lakes Compact to protect the Great Lakes from the threat of water diversions outside the basin. A council that oversees the compact is set to adopt changes to the review of proposed withdrawals and administrative appeals of council decisions...
...more

Ken Notes: What will mess this up is politics. We need environmental research and expertise working with business, communities, and agriculture to develop workable cost effective standards and practices that actually have a measurable positive impact. I fear mandates, penalties, and exceptions that have no actual positive outcome -- which is how we got to where we are now.
---
ST. PAUL — Plans for a second daily passenger train from St. Paul to Chicago could chug forward with Democrats in control of the House and the governor`s office. Will talks for a high-speed service also be revived?....
...more

Ken Notes: Good read and I have to agree with the consensus that a new High Speed line is still off the table especially with less support from Washington and with Republicans still in control the of Legislature here in Wisconsin. This is too bad in that Madison to Milwaukee is slow going and no passenger option is available. MSP to CHI efforts should focus on goods not people, sand rebuilt much of the North South infrastructure in Wisconsin.
---
Mark your Calendars! We are excited to announce that our 11th annual Wisconsin Sustainable Business Conference will be held on Thursday, December 13th 2018. This year, the conference will be hosted at the Monona Terrace, and sponsored by Wisconsin Manufacturing Extension Partnership (WMEP).
Over the past decade, we have seen the demand for sustainable practices sky rocket. As a result, we have seen innovative new business practices enacted to promote sustainable agendas. The institution of such practices, especially within our home state of Wisconsin, have inspired this year's theme, "Sustainably Forward". We look forward to hearing from outstanding speakers from across the state, and what they are doing to make sustainability a priority within their organizations.
...more
---
ST. PAUL, Minn. (AP) — Minnesota regulators reaffirmed their support Monday for Enbridge Energy's proposal to replace its aging Line 3 crude oil pipeline across northern Minnesota, while dozens of protesters walked out of the overflow hearing to make a point about climate change.
The Public Utilities Commission unanimously rejected a motion by opponents to reconsider its previous decision to grant a certificate of need for the project. And the commissioners agreed that Calgary, Alberta-based Enbridge has met several conditions that they imposed when they approved the plan in June.
...more

Ken Notes: Again I would show up with far more to say than NO. Like -- If you need our land, build or trails. If you need our land, support our businesses. If you need our land, set aside other land for public use. If you need our land, bring tourism to the state. If you need our land, share your profits...
---
The Fourth National Climate Assessment was released late last month.
A climate report recently released by the federal government emphasizes the substantial damages to the economy, environment and human health happening because of climate change, including the effects on the Midwest...
...more

Ken Notes: Good read. It is still advisable when talking to the federal government to avoid climate change and global issues and talk more about carbon in relation to health, water, and air issues, This is not brilliant but you should play the cards you are dealt.
---
Paul Nowak says his expertise is in packaging, but his passion is for sustainability.
So, I posed the following question: "When you say sustainability, are you talking about the financial sustainability of a business or the environmental sustainability of a business?"
His reply came without hesitation. "Yes! People. Planet. Profit. It's triple bottom line thinking," Nowak said. "They're not mutually exclusive. Environmental tree huggers and ROI (return on investment) lovers can coexist. It is not an either/or proposition."
...more
---
Clean fuel and vehicle proponents, environmental successes recognized
MILWAUKEE - Wisconsin's top sustainable transportation leaders were honored Thursday at the Wisconsin Clean Cities 24th Annual Stakeholder Meeting, the nonprofit announced today.
"I continue to be inspired year after year by our members' commitment to sustainable transportation options," Wisconsin Clean Cities Executive Director Lorrie Lisek said. "The award winners illustrate how green choices lead to both environmental and economic successes. We applaud them for their efforts."
Wisconsin Clean Cities, a nonprofit organization serving the entire state of Wisconsin, is one of nearly 100 U.S. Department of Energy Clean Cities coalitions. The coalitions partner with members in the public, private and nonprofit sectors to reduce dependence on imported oil in the transportation sector by promoting the use of alternative fuels and sustainable transportation options, thereby improving air quality, supporting local jobs and strengthening the economy...
...The City of Milwaukee was the overall Sustainable Transportation Champion for its work with multiple fuels and technologies....
...more

Ken Notes: Madison leaders may want to read this article!!
---
Miron specializes in providing innovative pre-construction, construction management, design-build, general construction and industrial services.
---
It's no secret that U.S. environmental standards are shifting. President Donald Trump has been candid in his resolve to ease regulations. And in early December, the Environmental Protection Agency (EPA) announced plans to revise air pollution rules.
The American Lung Association in Wisconsin is among the groups concerned about where the changes could lead...
...more

Ken Notes: I get a bit nervous about the American Lung Association in Wisconsin becoming too political. They are in a perfect position to supply the carbon data that could be used in a bipartisan effort to clear the air nationwide. I would focus on changing what we know we can change like energy production, auto exhaust, and environmentally friendly buildings and construction practices rather than fight a pro business agenda at the federal level. Clearly Wisconsin would benefit from the good neighbor rule if Chicago, Indiana, and Ohio had to clean up their act but their is a cost to this. One final note: this is a global issue and there is no question we have moved production that would be far cleaner in the US to countries that do not have nearly as strict restrictions in place.
---
We're witnessing the dawn of a new age of electricity in which solar and wind energy have become cost-effective, says Tyler Huebner, executive director of RENEW Wisconsin, a non-profit dedicated to accelerating the future of renewable energy in Wisconsin.
In its infancy, solar energy was viewed as a green but expensive alternative to burning carbon-emitting fossil fuels. Now, a decade later, while the environmental benefits of renewable energy remain enormous, the primary rationale for using more solar energy has become economic. Solar energy is less expensive to produce than energy produced by fossil fuel plants, which require enormous infrastructure investments upfront and ongoing purchases of fuel...
...more
---
President Trump promised to revitalize the manufacturing sector after decades of decline, a message that has especially resonated in the Midwest, where manufacturing has an outsize share in total state employment.
But his rollbacks of key Obama-era environmental rules could test that pledge.
The Trump administration has proposed to rework tailpipe pollution rules for cars. It`s also looking to unwind actions the Obama administration took to phase out the use of potent heat-trapping gases known as hydrofluorocarbons, or HFCs.
Both moves could spell bad news for the manufacturing sector. That`s because auto companies have already made big investments in technology aimed at improving vehicle fuel efficiency. Similarly, air conditioning and refrigeration companies have invested in replacements to the planet-warming gases.
And those investments have created good-paying jobs that could go away, industry sources said....
...more

Ken Notes: This is very interesting! I suggest we work with business to find ways to exponentially improve the environment while creating jobs and a sustainable economy. The energy companies are doing this on their own and many businesses have stepped up as well. Now we will see federal rollbacks that will actually hurt both the economy and the environment. When talking to environmentally friendly businesses the do often mention that some of the regulations in place actually prevent them from doing great things. Right now we have nonattainment and opportunity zones occupying the same space. Go figure.
---
Right now the gray wolf is federally protected in Wisconsin. But a bill making its way through Congress aims to lift that protection here and throughout the lower 48 states.
Some people view the gray wolf as an important part of a functioning ecosystem. Others consider wolves a looming threat.
In the early 1900s, a bounty system was created in Wisconsin to drive down the number of wolves. By 1960, there wasn't a wolf to be found on the state's landscape.
...more

Ken Notes: My readers are very opinionated on this so i will just say we need to look for ways to manage this in Wisconsin. I like relocation because they are beautiful animals...
---
With millions traversing the globe to reach their loved ones for the holidays, travel (particularly air travel) is top of mind. How can I avoid the lines? Will I be able to fit all these gifts in my carry-on? But one more question arises in the environmentally conscious: What's this going to do to my carbon footprint?
Aviation is, at its core, a fossil fuel industry, one which guzzles a shocking 5 million barrels of oil every single day. Burning this fuel to get you to your grandma's place in Wisconsin or that winter getaway in Hawaii currently contributes to close to 2.5 percent of total carbon emissions. Experts expect this figure to rise to 22 percent by 2050, even as other sectors start cutting...
...more

Ken Notes: Still better than cars. UW can we find ways to reduce this?
---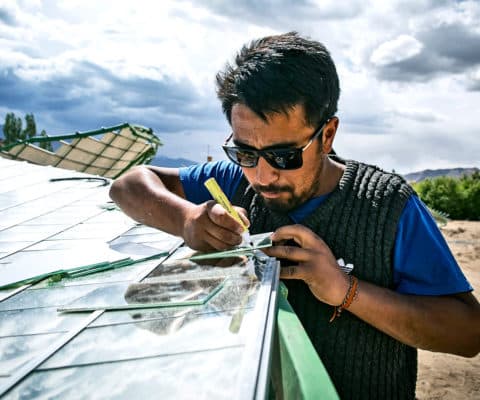 A new synthetic material will make solar energy a more cost-effective, efficient, and reliable source of power
Clean energy is at a crossroads. To become a viable replacement for fossil fuels, solar power plants must first improve their efficiency to match the electrical output of nonrenewable energy sources. This relies heavily upon the innovation and development of new products that absorb and exchange heat at higher temperatures....
...Additional researchers are from Georgia Institute of Technology, Massachusetts Institute of Technology, the University of Wisconsin-Madison, and Purdue University. The Department of Energy's Sunshot Initiative funded the study, which researchers conducted in collaboration with Oak Ridge National Laboratory...
...more

Ken Notes: Go Bucky... We should have a UW Energy Research grant program... Energy - Designed, manufactured, and delivered in Wisconsin.
---

WGBA has combined forces with the U.S. Green Building Council (USGBC) and together we will pilot a new model for USGBC chapters and local market engagement...
---
Envision Solar, the leading producer of unique and sustainable infrastructure products for electric vehicle charging, energy security and outdoor media, announced that Summit Credit Union has selected the Company's EV ARC™ products to provide emissions-free EV charging for employees at Summit Credit Union Headquarters in Wisconsin.
"As a customer-owned financial cooperative, we run our business sustainably and support our employees and members in their own sustainable practices. So, it was natural for us, when planning Summit Credit Union's new headquarters, to look into car charging stations. We were happy to find Envision's stations which allow us to offer easy access to car charging through free-standing stations that did not require costly structural support and are powered by the sun! We see it as a win-win-win for Summit, our members and employees, and the earth," said Kim Sponem, President & CEO of Summit Credit Union.
...more
---

BAYFIELD, Wis. (AP) — Growing plants year-round is not easy in often-frigid, wind-swept Chequamegon Bay in northern Wisconsin just off Lake Superior.
But Bill Bailey and his wife Gayle Chatfield have been able to do just that, using almost entirely renewable energy, for the past five years. In 2013 they installed 13.5 kilowatts of solar PV to power their commercial greenhouse operation; a few years earlier they had gotten solar thermal units for the greenhouses....
...more
---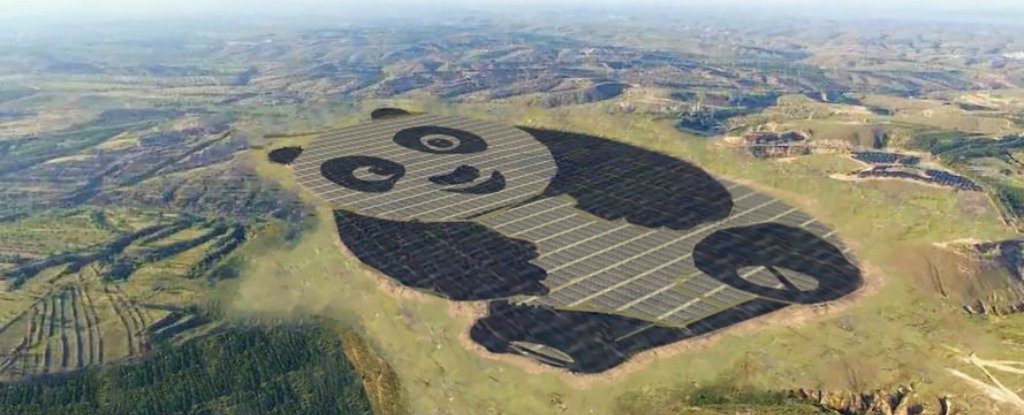 Solar power has never been cheaper, and it`s often held up as a success story for clean energy advocates. In the past four decades, the cost of some solar panels, like photovoltaic cells (PTV), has plummeted by as much as 99 percent.
...more

Ken Notes: GREAT READ!!!
---
The Guangzhou Motor Show is like the Chinese auto industry as a whole. It's huge, it's confusing (to a foreigner there for the first time), and it's full of electric vehicles. As someone who's been paying attention to the North American and, to a lesser extent, European EV scene for a dozen years, visiting the show in Guangzhou this past week was a revelation. I mean, how many new alphanumeric EV names can you cram into your brain in a matter of hours?
...more

Ken Notes: China has been betting on next gen autos to enter the US market. They now have several products in the hopper that are very interesting. They also want to enter the transit market in a big way.
---
MADISON—While hundreds of Wisconsin high school football fans streamed into Camp Randall Stadium Friday, Nov. 16, for the high school playoffs, 77 students gathered in a quiet, airy room on the University of Wisconsin-Madison campus to learn that global health opens career doors they never anticipated—in their communities and across the world.
..."Students are learning about how to make a difference in their high school, in their community, in college, and they can expand on that knowledge and take it globally."...
...more

Ken Notes: I hope global health and the impact of environmental issues is one that gets through the bureaucracy and gridlock around the world.
---
With eDNA, or environmental DNA, scientists can count fish and other animals just by collecting a small sample of water.

Take a cup of water from any river, lake, or oceanside beach and environmental DNA fingerprinting can reveal which species of fish were recently swimming there. It used to take a lab a month or more to get those results, but now a new tool can identify a specific species in three days or less. That could be a gamechanger for science.
"If you took a water sample from New York Harbor on Tuesday morning, by the end of day Thursday you'll know whether winter flounder are back," said Jesse Ausubel, director of the Program for the Human Environment at Rockefeller University in New York City.
New York Harbor restricts dredging if winter flounder are present.
Not only is the "Go Fish eDNA" (environmental DNA) tool fast, it costs just $15 per sample for one species, and $8 for additional species. In a few years time an early morning water sample from a beach could tell lifeguards by midmorning if tiger or white sharks were around, Ausubel said. "It'd be a kind of DNA dipstick."...
...more

Ken Notes: This is amazing tech. Should help with invasives.
---
America's Midwest faces worsening trouble with undrinkable well water, recreational lakes choked with toxic algae and water treatment plants requiring budget-busting upgrades to remove pollution washing from farm fields and industries...
...The Gazette reviewed all 12 state strategies, talked with dozens of state agency leaders and found the following:
The Gulf Hypoxia Task Force said every state should complete a strategy by 2013. But only four did. Kentucky and Tennessee still have only drafts.
Only five states established baseline numbers for nitrate or phosphorus loads in surface water, making it impossible in the other seven to know if improvements are being accomplished.
Five states haven't updated their strategies after initial publication, contrary to advice from the U.S. Environmental Protection Agency.
Only one state — Minnesota — requires farmers to implement conservation strategies to reduce runoff.
All 12 states now require water monitoring at some facilities, usually large municipal wastewater treatment plants.
All the states monitor water quality at public beaches to some degree, leading to more than 1,400 closures or advisories for high levels of bacteria or toxins from algae this past summer. More than 200 fish kills were reported in the states in 2017, with many caused by contaminants washing into waterways.
...more

Ken Notes: This is fascinating. Wisconsin should monitor this and work with farmers to see what actually works and can be economically implemented.
---

The WI Sustainable Business Council is a network of Wisconsin businesses and organizations that are interested in, or actively responding to, the challenge of sustainability.
---
Council provides businesses with the tools they need to understand their sustainability progress
For the past decade, the Wisconsin Sustainable Business Council has been dedicated to bringing businesses together and providing resources to assist companies on the path toward being more sustainable in their operations.
Those efforts are being bolstered as the Wisconsin Sustainable Business Council joins forces with the Wisconsin Manufacturing Extension Partnership as an affiliate group, effective Jan. 1.
An agreement has been reached to provide continuity of the council and its services and activities following the planned retirement of Thomas Eggert, the current WSBC executive director. Eggert founded the Wisconsin Sustainable Business Council in 2008. The organization has operated out of the Nelson Institute for Environmental Studies at the University of Wisconsin-Madison, where Eggert has served as a senior lecturer. Eggert will assist in the transition....
...more
---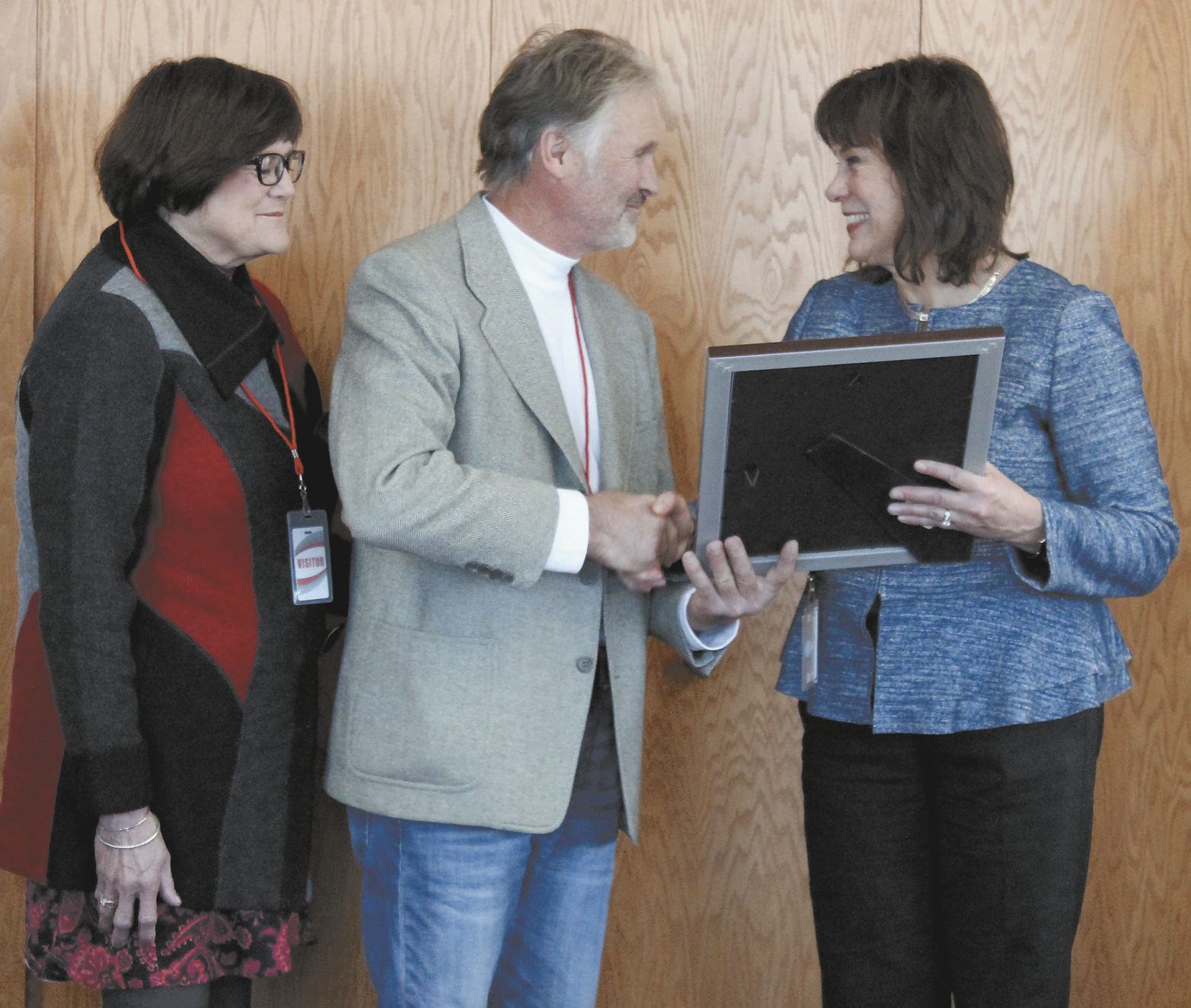 MADISON — Calumet County dairy farmer David Geiser has a reputation as a respected farmer and conservationist, his passion stemming from his devotion to improve the health of soil, water, plants and cattle.
In August, he was named as one of three finalists for the prestigious 2018 Aldo Leopold Conservation Award. At the Nov. 15 meeting of the Department of Agriculture, Trade and Consumer Protection board, Geiser was announced as this year's recipient of the award by Sand County Foundation President and CEO Kevin McAleese.....
...more

Ken Notes: Share the example of what can be done if we focus on the right way to do things...
---
St. Olaf College alumna Kate Tecku Field '10 pitched her business venture, The Kombucha Shop, on a recent episode of ABC's popular reality show Shark Tank.
The show invites entrepreneurs to pitch their business ideas to a panel of well-known "shark" investors who then decide whether to invest as business partners. Field asked the sharks for $350,000 in exchange for 10 percent equity in The Kombucha Shop, which sells kits to brew the fermented tea beverage kombucha at home. Each kit costs $49 and includes the ingredients and equipment to brew the drink, which is made from green or black tea and is known for its health benefits. In a recent profile, the Wisconsin State Journal noted that it's the No. 1 best-selling kombucha brewing kit in the world.
...more

Ken Notes: Imaging an area for Organic, Natural, Farm to Table, Heritage, Small Batch, Small Farm, Local Wisconsin Products marketed to the world. The abandoned Oscar Meyer plan is just sitting there!!!
---
MADISON (WKOW) — Madison mayor Paul Soglin is asking the Wisconsin Air National Guard to do more testing for chemicals city officials say are likely coming from Truax Field.
The city is working with the National Guard, Department of Natural Resources and Dane County to mitigate the contamination of per-and polyfluoroalkyl substances (PFAS).
Small amounts of the man-made chemicals have been found in two water wells in Madison — one on East Washington Avenue and another on Mineral Point Road....
...more

Ken Notes: Be careful when pointing fingers, we know that phosphorous levels in the Madison lakes is off the charts bad. We may want to address are own issues at the same time we ask others to address theirs.
---

Anne Hazlett, the U.S. Department of Agriculture`s assistant to the Secretary for Rural Development, announced Dec. 4 that the agency is investing $1.2 billion to help rebuild and improve rural water infrastructure for 936,000 rural Americans living in 46 states. USDA is providing financing for 234 water and environmental infrastructure projects through the
Water and Waste Disposal Loan and Grant program
-- funding that can be used for drinking water, stormwater drainage, and waste disposal systems for rural communities with 10,000 or fewer residents...
...more
---
The Dane County Board of Supervisors recently established new goals aimed to reduce phosphorus runoff in the Yahara Lakes by improving farming techniques. These goals include supporting and encouraging conservation efforts, improving nutrient management, reducing runoff, improving regulations, developing new programs and supporting existing ones...
...more

Ken Notes: Not that we are not trying! This is an older article re-posted to show that area water quality is a big problem. I still wish we would take a road trip to Minnesota and see what they accomplished in the twin cities...
---
Links we like supporting Wisconsin`s Environment and Business. More will follow each week...
...more
Ken Notes: Share this and if you want to be included:
Call us - 608.334.2174 or Editor [at] WDNGreen.com....
---
Two new studies suggest that rising autism rates might be connected at least in part to air pollution from traffic. They are not the first to show a link between exposure to pollutants during pregnancy and the diagnosis of autism spectrum disorders. But both studies look at large populations and find a link with relatively low levels of pollutants.
In a study of 132,256 births in Vancouver, Canada, published Monday in JAMA Pediatrics, researchers detected an association between exposure to roadway pollution in utero and later diagnosis with autism. The study's strengths were its large size and its method of diagnosing autism, which can be inconsistent....
...more
---
Rivian wants to turn adventure vehicles--typically gas guzzlers--into fully electric cars.
After nine years of secrecy, an electric car startup with a whole lot of funding is revealing its vehicles to the public.
On Monday, San Jose-based Rivian unveiled its pickup truck at an event in Los Angeles, the first of two gas-free cars the company is revealing this week. Founded by MIT grad R.J. Scaringe in 2009, the company has racked up more than $500 million in funding while keeping a tight lid on its futuristic-looking designs.
On Tuesday, the startup will pull the lid off its SUV. Rivian says neither car will be available until 2020...
...more

Ken Notes: Michigan... Hey Wisconsin we have some plants just sitting around doing nothing????
---
Renewable Energy Advocates: Xcel`s New Goals Set Pace For Industry
An electric utility company in western Wisconsin is working toward providing power with zero carbon emissions.
Xcel Energy announced a new goal of producing 100 percent carbon-free electricity by 2050.
Frank Prager, Xcel's vice president of policy and federal affairs, said the utility is stepping up their emissions goals because renewable energy has become more reliable and affordable.
"As technology advances, there`s opportunities for us to provide our customers with the clean energy that they want at a lower and lower price," Prager said. "We also recognize that policymakers and folks involved in the climate debate are very interested in trying to move the electricity sector further and achieve lower emissions from the electricity sector consistent with some of the international discussions that have been going on."...
...more

Ken Notes: My goal is to bring Wisconsin back to a leadership role regarding environmental policy and advocacy. This could help!!!
---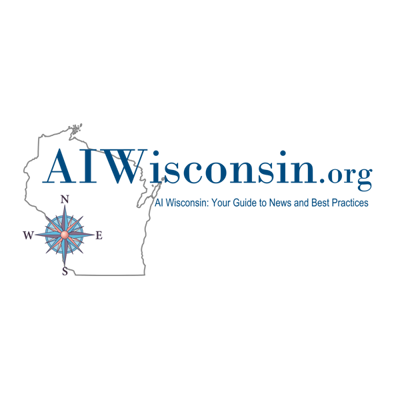 Ten thousand of environmentally minded business professionals, 500+ News outlets and reporters, and even a treehugger or two now read WDNGreen each week. Thank you!
Please
share WDNGreen with a friend
...
WDNGreen Network of Links
... or
Search WDNGreen
...
Ken Harwood
Advocating for Wisconsin
Editor [at] KenHarwood.com
608.334.2174
...more
---
We try to include links to help you consider your GREEN economic development options in Wisconsin. Businesses feel free to send us your information here.
...more
Ken Notes: Feel free to include this link and logo on your website. Our Tools and Resources are always a
click
away. Also a new easy to use address:
www.WDNGreen.com/tools/
---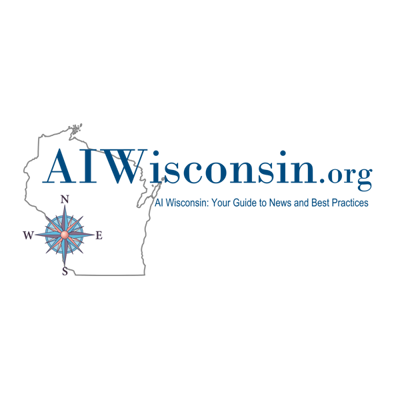 An agenda for the new administration...
An overriding principal - Restore Wisconsin to the bipartisan national environmental leadership it once enjoyed...
Building and Design

Work with developers, architects, communities, and business to ensure the highest and most cost effective Green building practices are used in new development.

Expedite projects who guarantee the best environmental practices and make sure the systems are in place to ensure this. Trust but Verify.
Avoid costly mandates and restrictions that will move businesses to other states or regions.

Mining

Explore the restoration of the sulfide mining moratorium or...

Work with counties to create and enforce new mining regulations, restrictions and enforcement.

Delay approval of any new mines until counties have their regulation policies in place.
Restore DNR environmental staff and expertise to levels that can review any requests in a timely manner.
Require a site reclamation fund be established from the onset of any approved project with a plan in place for complete site reclamation.
Allow municipalities to enact special utilities in lieu of or in addition to regular taxes for issues like impact on roads, utilities, infrastructure, and public safety.


Renewable Energy and Fuels

Work with the utilities, business and communities to encourage the use of renewables, reduced carbon output, and better reporting and measurement.
Establish a PSC willing to work with business and power companies while progressing to a lower carbon renewable future.

Do not impose legislative mandates on renewables but rather incentivize use of new technologies while maintaining an open dialogue among all parties involved.


Our Watersheds and the Great Lakes

Become a strong partner in Great Lakes–St. Lawrence River Basin Water Resources Compact.
If water is removed from the watershed, require that it be returned cleaner that it was taken. Again make sure DNR has the resources to monitor and ensure this policy.


Land Use and Transmission / Pipe Lines

Require the need and or profit for new systems to Wisconsin citizens. If a system like tar sand or electricity is for other states or regions, require that the land uses benefits all citizens in our state in lower utility costs, additions public facilities and reduced air and water pollution.
Require that any new system create an environmental offset equal to or greater than the land they take. This can be done in two ways: One additional Parks, Public Lands, Trails, Access to Waterways, Etc. OR Two reduced carbon emissions through the elimination or older less efficient production facilities or the conversion to renewable or exponentially lower emission fuels.


CAFO`s and Agricultural Issues

Address and regulate CAFO`s like the "cities" that they are.

Develop regulations and controls to address the scale of effluent that these facilities produce.
Consider using CAFO`s as a model for new waste treatment like digestion and pasteurization.

Preserve the small farm in Wisconsin by encouraging sound environmental practices in a cost effective way.

Work with all farms, businesses, and communities to improve watersheds, runoff and source point pollution focusing on results rather that penalties or mandates.


Transit and Mass Transit

Improve our transit and shipping corridors like rail and interstate access to encourage Wisconsin to become an efficient distribution hub for the Midwest.
Encourage communities to adopt new and more efficient mass transit systems.
Encourage the use of more efficient buses, trucks and vehicles in the state.


ECO Tourism

Explore ECO Tourism as an option to preserve our vast agricultural heritage and natural waterways and woodlands.
Allow ECO TIF financing to pair tourism development with land and watershed preservation.

...more

Ken Notes: Just a few ideas, please feel free to pick a choose. Please share with those on both sides of the isle that will be making decisions in the near future.

These are personal viewpoints shaped by your feedbck. They are not the positions of my sponsors or partners.
---
Coverage of local and national eco news for commercial development, home, transportation, food and community. We search for environmentally friendly news that makes economic sense for Wisconsin.
ONLINE HERE
. Please share with a friend. To receive WDNews GREEN on Monday of each week as an email you must subscribe -
secure link to subscribe is here
.
Want to comment, or have an idea:
Ideas[at]WisconsinDevelopment.com
We may now need to build a coalition that is willing to lobby from a "greener" yet pro business perspective. Lots of HUGE issues: Sand Mining, CNG, LEED Alternatives, Focus On Energy, LED Lighting R&D, Cleaner Power Generation, Recycling, Power Lines, Electric Cars, Wind, Solar, Bio Fuels, Digestors, Green AG, Business Incentives...And of course the Greenest and Happiest of Holidays to you!
Please consider sponsoring WDNGreen!
WDNews GREEN will be emailed on Mondays, included in WDNews on Thursdays, and online all the time at: WDNGreen.com Each week we will find 10 to 20 articles from Wisconsin and across the Nation dealing with environmental issues. Our goal is to promote environmental excellence from a sound business perspective.
Our resource guide at the bottom of this publication will continue to grow, and you may add links, suggest articles, include your press releases, or comment by
eMailing Me
. As always thanks for reading, and if you would like to sponsor or get involved call 608.334.2174...
...more
Ken Notes: Please forward this to friends and colleagues who have an interest in our economy and environment.
You may eMail Me Here
.
Start Week: 47 - Query String:SELECT * FROM wdngreen WHERE `issue` > 47 and volume = 6 OR `issue` > 90 ORDER BY sortorder